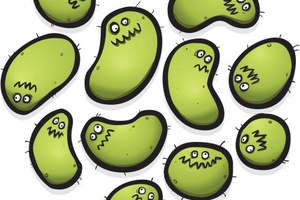 Germs are everywhere. Homes, offices, restaurants and public spaces all harbour a vast array of bacteria and other undesirables. Some people find this off-putting and go out of their way to avoid such nasty things. Others think germs are good for us and that anyone squeamish about them should just harden up.
If you belong to the first category of people you need to know precisely which objects are seething with germs. Luckily there's a plethora of information available. Countless studies have been performed on this very subject - and the results have the potential to surprise.
In 6 Surprisingly Dirty Places in Your Home you'll learn to be suspicious of the kitchen sink (where food particles can serve as a breeding ground for bacteria) and toothbrushes (the dampness is conducive to bacteria growth). Every salt and pepper shaker surveyed in one study tested positive for cold viruses. Beware television remote controls and computer keyboards (a British study found one that had five times more germs than a toilet seat).
Bathtubs are untrustworthy, too, especially the whirlpool variety which had "mild to dangerous bacterial growth" according to one microbiologist.
What Has the Most Germs in Your Home? exposes kitchen sponges and dishrags. "Not only do bacteria feast and grow on your kitchen sponge, but you spread them all over the kitchen when you wipe down counters and the stove." The solution is to run them through the dishwasher or give them a two-minute blast in the microwave.
Coffee tables can also harbour germs, particularly if you put your feet up on them.
The bacteria timebomb in your home catalogues the perils of wooden spoons, chopping boards, hairbrushes, toilet brushes, soap dispensers, bath towels, mattresses, duvets and pillows. "A brand-new pillow doubles its weight in three years, thanks to remains of dust mites that build up inside it." Additionally, researchers at the University of Arizona "recently found that 50 per cent of the vacuum brushes tested contained faecal bacteria."
Offices are just as bad, according to the Huffington Post which reported that "there's 400 more times bacteria on an office desktop than the toilet seat ... The safest place from germs in the office is the toilet seat. That's because no one cleans their desktops." At work it's advisable to also watch out for vending machine buttons, water fountain controls, tap handles - and the door handles of refrigerators and microwaves.
Interestingly, National Geographic says that "[m]en's spaces were found to harbo[u]r more microbe species than women's". The Daily Mail http://www.dailymail.co.uk/news/article-2125087/How-office-mouse-carries-THREE-TIMES-germs-toilet-seat.html reports the "average computer mouse is three times dirtier than a toilet seat" and "men are far more filthy than their female counterparts - with 40 per cent more bacteria lurking in male mice."
The Daily News dished the dirt on restaurants where salad bar tongs, ketchup bottles, bathroom door knobs, rims of glasses, tables, lemon wedges, menus and seats fail the hygiene test. Reader's Digest's list of 11 Public Places with the Most Germs includes handrails, elevator buttons, grocery cart handles, light switches, salad bars, ATM machines and exercise equipment.
In summary: pretty much everything is filthy beyond belief. The good news is that washing your hands with soap and water for twenty seconds will get rid of most of the germs - and not touching your face will give you a further level of protection.
In the meantime I'll keep observing the little germ-phobic rituals I've adopted over the years. They include: pushing pedestrian crossing buttons with my elbow, opening the doors of public toilets with a paper hand towel, entering my PIN number with my car key - and avoiding smorgasbord restaurants, communal condiments and gyms.
What's your approach to everyday germs? Do you embrace them or try to avoid them? Have you developed any strategies to minimise your exposure to them?