Having a flair for decor has proven useful in both home and professionally for an Auckland woman.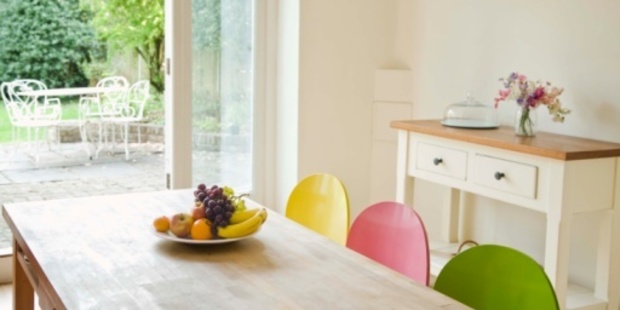 Bronwyn McAllister's future vocation was decided when, as a 13-year-old, she was allowed to choose curtains for her bedroom.
Looking at fabric samples, McAllister saw straight away which one would suit her room, and it was then she knew her future lay in making spaces look beautiful.
Three years on, she began pursuing that dream while still at school by working with the display team at a Palmerston North department store.
Following that stint, she worked with a professional window-dresser. The pair ended up working together for nine years, eventually becoming business partners.
After spending time working in sales, McAllister began her own visual merchandising and home styling business, Skyte, in Auckland.
Her creative flair is evident in the Northcote home she shares with husband Tim Dalzell and their 9-year-old twins, Mac and Will.
One of the attractions of the home for McAllister is the U-shaped central layout with an entertaining space that opens from the family room and dining area.
She says that creating intriguing and welcoming interior spaces is not based on any rules, but is rather "a knack for putting it all together and making sure a look is balanced so that your eye isn't darting all over the place".
Inspiration can be found anywhere. "Whether it's old or new, I can see potential in so much stuff. Even something that's cheap can be turned into something wonderful.
"I'll see something in a store and know exactly where I can put it; it's an instinctive thing and has nothing to do with how much something costs.
"Take the retro-inspired tea towel I've used as a chair cover, for example. It's given the chair, which was from our local inorganic rubbish collection, a new lease on life."
McAllister loves filling her home with antiques and pieces that have a story, such as a printer's tray that is hung like a display case on the wall.
"I attached a handle to the side, just for fun," she says. "It's always being added to or edited and I love the way the knick-knacks have their own little space in the different compartments. It's this kind of feature that creates an interesting look in a room."
Although certain rules can be useful in interior design, McAllister says people should not let them hinder their imagination.
"I wonder if some people follow too many rules that stop them from being creative."
Style tips
Inspirational words: McAllister finds new ideas and different perspectives on design by reading. She is enjoying Etc and The Stylist's Guide to NYC, both by Sibella Court. "Sibella is an interior stylist who owns a shop in Sydney called The Society Inc. She's a real inspiration to me."
Simple arrangement: One of McAllister's favourite things is to fill a glass jar with fresh flowers and place it with a candle. "It is the perfect way to dress up our little conversation table outside."