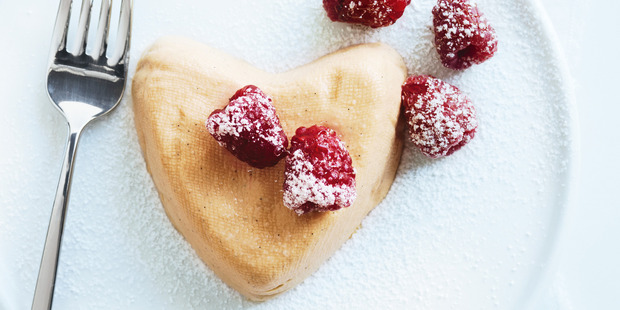 Serves 2
• 2 Tbsp mascarpone
• 30g cream cheese
• 1 vanilla bean, split and seeds scraped
• 1/4 cup caster sugar
• 2 Tbsp thick cream
• 1/3 cup thick Greek-style natural yoghurt
• 1 tsp instant coffee powder, dissolved in 1 tsp boiling water
• Icing sugar, for dusting
• Raspberries, to serve
1. Place the mascarpone, cream cheese and vanilla seeds in a food processor and process until smooth. Add the sugar, cream, yoghurt and coffee and process until smooth.
2. Line 2 x 1/2 cup-capacity porcelain heart-shaped moulds with 2 x 25cm squares of damp muslin. Spoon the cream mixture into the moulds until full and smooth the tops.
3. Fold over the over muslin, place the moulds on a baking tray, cover with plastic wrap and refrigerate for 6 hours or until firm. Carefully turn out and remove the muslin. Dust with icing sugar and serve with raspberries.
Variation: if your valentine is a chocolate-lover, you can add 70g melted chocolate to make mocha-flavoured coeurs.
For more recipes visit the Donna Hay website, www.donnahay.com.