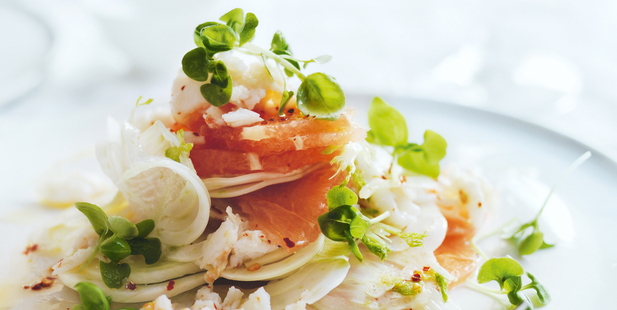 Crab, pink grapefruit and fennel salad. Photo / Chris Court, Donna Hay Magazine
Serves 2
• 150g cooked crab meat+
• 150g bulb baby fennel, thinly sliced
• 1 pink grapefruit, peeled and sliced
• Baby (micro) basil leaves, to serve
Grapefruit dressing
• 2 Tbsp pink grapefruit juice
• 1 Tbsp white balsamic vinegar
• ¼ teaspoon dried chilli flakes
• 1 Tbsp olive oil
• Sea salt and cracked black pepper
1. To make the grapefruit dressing, place the grapefruit juice, vinegar, chilli, oil, salt and pepper in a bowl and whisk to combine. Set aside.
2. Place the crab in a bowl, sprinkle with salt and pepper and mix to combine.
3. Add the fennel and pink grapefruit, drizzle with the dressing and toss to combine. Divide between plates and top with baby basil leaves to serve.
+ Instead of crab meat you could use thinly sliced smoked salmon.