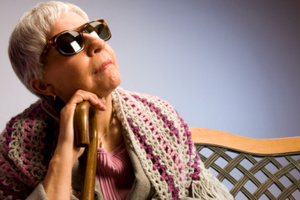 Most New Zealanders would rather cut a decade off their life or lose a limb than go blind, a survey has revealed.
The Auckland Eve Survey interviewed more than 1100 Kiwis from around the country and found 80 per cent would rather have a shorter life than lose their vision.
Despite this, a third of respondents thought they didn't need regular eye checks unless they were having a problem with their vision and just over half hadn't heard of macular degeneration - a major cause of eyesight loss in people aged over 50.
Auckland Eye ophthalmologist Dr Ng said the results show that while most New Zealanders value their eyesight, there's a lack of public education and awareness when it comes to basic preventative eye healthcare.
"Kiwis are aware that loss of vision and blindness will severely impact their lifestyle, but at the same time, they don't know how easily that can be prevented just by simple preventative care like regular eye checks," Dr Ng said.
"The survey does show that nearly 6 out of 10, or 59 per cent of New Zealanders had a professional eye test last year, which was a pretty good result.
"It is very important to increase public awareness of common eye problems like glaucoma, macular degeneration, childhood eye problems and even to teach just what do to in the event of trauma to the eye."
Almost one in five Kiwis believe that if they can see, their eyes must be healthy.
But Dr Yvonne Ng said this isn't always the case.
"There are eye diseases, such as glaucoma, where central vision is often preserved until the disease is advanced. Once vision is lost, little can be done to restore it. Many eye diseases should therefore be detected early, so that if intervention is necessary, it has the potential to be sight-saving."
Eight out of ten respondents said eyesight was the most important out of the five senses.
Would your rather go blind or lose a limb?
- www.nzherald.co.nz