Ahead of her runway show at the L'Oréal Melbourne Fashion Festival, we talk to fashion queen Alannah Hill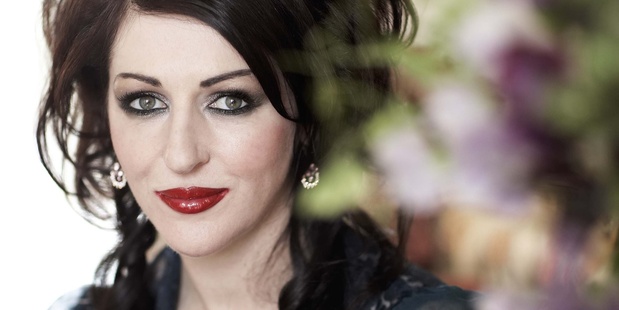 Alannah Hill will show as part of the nightly runway shows at the L'Oréal Melbourne Fashion Festival in March, with a winter collection that showcases the best of the designer's girlish aesthetic: ladylike coats, a rich colour palette of blood reds and jewel greens and "decadent gothic girl" lace dresses.
Check it out - your chance to win a $10,000 trip for two to Melbourne Fashion Festival.
The designer, who launched her namesake label in 1997, has become famous for her super feminine style - the Alannah Hill girl is, she says, "a romantic, poetic girl". The Melbourne-based designer, who opened her first Auckland store in 2008, tells us what's inspiring her right now, and what she loves most about the city of Melbourne.
Where did your love of fashion come from?
I simply love clothing. Wild, sexy, provocative and alluring clothes to bring out the girl-gone-wild mood in all of us. I really love colour - sparkly jewels that throw out spotlights of hope and glory.
Looking back on the beginnings of your brand, how do you think your design has evolved since?
My travels around the world have opened up a galaxy of incredible influences. From Tokyo to Florence, I've absorbed high fashion and street fashion and everything in between; and whatever was useful to realising my design vision, I've kept. As I've climbed up the daisy chain, the kind of dresses and coats that I'd like to wear personally have subtly changed. I've become, if anything, more ornamental, more obsessed with fabrics, prints and textures. I can also flip on these ideals, falling in love with a simple, sexy, elegant frock with an embellished detail on it. I try to re-invent myself every season. We can become a little too safe and we have to take risks, wearing outfits that surprise us, delight us, make us feel confident ... even if we are pretending.
What is inspiring you right now?
Beautiful big flower prints, the breakthrough visionaries of the 1960s, Edie Sedgwick, Jean Shrimpton, Andy Warhol and a kaleidoscope of pretty prints with girls doing little pin-up poses on the streets. I have almost drowned in my archive of patterns as I am falling in love again and again with my boudoir vision of lingerie, which always takes centre stage for me. Delicate bias cut slip frocks in wild sherbet and passion blood red mixed with the witching hour of midnight black. I also love virginal white. But I am a bit of a bad girl, a naughty girl, a risk-taker, a dream-maker, a hip-shaker; I talk back and never stay still for too long.
What is the most romantic thing that has happened to you?
Travelling in Italy with my boyfriend. We became lost in the wild hills of Tuscany very late at night and when I woke up, I was in a magnificent villa surrounded by olive groves and chianti grapes. I drove off early to look for a bakery and found myself at a roadside kiosk with some working men from the fields. I drove the hire car into a ditch and almost wrote it off. We kept driving past hearses and gardenias on the highway south past Rome. Then, on the Amalfi coast, he proposed to me as the sun was rising over the mountains and the sea.
Who is the Alannah Hill girl?
She is a romantic girl. A poetic girl. A girl with the courage to display to the world the beauty she feels within. She likes to go out and beautify the world around her. My clothes give her self-assurance and poise to face anything. She's both sophisticated and vulnerable, girlish and coquettish. Alluring, often pensive, reflective with a secret world of chaos running through her veins. She is often paradoxical, sexy, chic and disarmingly honest.
You are known for your love of colour and femininity - and red lipstick. But do you ever feel the urge to shake off that girlishness and wearing something minimalist?
Never. I get dressed up all the time - I even get dressed up to go to bed. I believe the world needs an abundance of colour and pattern.
Melbourne's style is traditionally thought of as being in tune with the 'dark and intellectual' New Zealand aesthetic. Do you think this is true?
I'm from Tasmania, which has a wild, ghostly, yet gothic tradition all of its own. Melbourne, Tasmania and New Zealand all share a certain coolness or sense of introversion - definitely dark but not necessarily intellectual, a touch of decadent old-world style with the glamour and coolness of NYC.
Your favourite trend for winter?
I love the lace ... the dark, moody, mystical and romantic lace world. It is always so beautiful and sexy and reminds of girls who are eternally romantic, brimming with secrets and ambitions.
Tell us about the collection you'll be showing on the runway at the festival?
I will be showing my new Sixties Pop collection. Spot upon spot, colour upon colour, sherbet upon sherbet, grand Hollywood chic textures that I developed on my recent trip to Florence. Accessories that will have you in a whirl with cashmere striped jumpers, sexy leather bags and shoes that will make your head explode with happiness. I was very inspired by loads of colour and the fabulous ladies who walk quietly and elegantly on the streets of Fifth Avenue in NYC. I may do something slightly a little bit mad. I still haven't quite made up my mind but of course I will be daring and bold and fashionable all at the same time. I love a fashion parade and I haven't done one for a long time so I will try and take over the entire event and ensure that 150 models come prancing out on their little pony legs for all the world to see.
What do you love most about Melbourne?
Melbourne is home. I feel safe. I love it most of all when I am in the car driving around listening to music with my 11-year-old son (unfortunately it is only my son's music which we're allowed to listen to: One Direction!). I nearly go mad but I love driving through the streets, getting lost, going through red lights and eating icecream. I also love the parks and the beaches - I never swim or wear bathers, but I do love to wander around on the sand in a high-heeled runner.
Your top five Melbourne hot spots?
1. The Coles Supermarket in Chapel St. I love to stickybeak at what people have in their trollies and eavesdrop on people's conversations.
2. Sitting in my car outside my store in Chapel St. I watch the customers, I watch the girls, I watch the people in the street and then I often redo the window display as I am mental.
3. Caffe e Cucina in Chapel St. I love the dramatic service, the lovely Italian food, the Diet Coke is always colder than anywhere else in the entire world and I love the carry-on in there as they flirt more than me and all the waiters smell like man angels.
4. Mag Nation in Greville St. You can sit all day in lovely leather couches and spill Diet Coke on the magazines that you can read and then put back. I often steal the cookies in the jar on the counter.
5. The Supper Club in the city. The huge expansive windows and the dark, moody, exotic lighting make a romantic evening. Their drinks are always full of colour and it is a lovely way to spend an hour. I don't like being out for more than one or two hours as I feel the world may collapse in on me, so it is perfect at the Supper Club.
6. Gold Class Cinemas at the Jam Factory. I love everything about it. The food, the blanket you get to cover your knees, the little pillow, the service, the way I can lay back and pretend the world has stopped turning - even if it is just for two hours. It is bloody expensive though. Ludicrous.