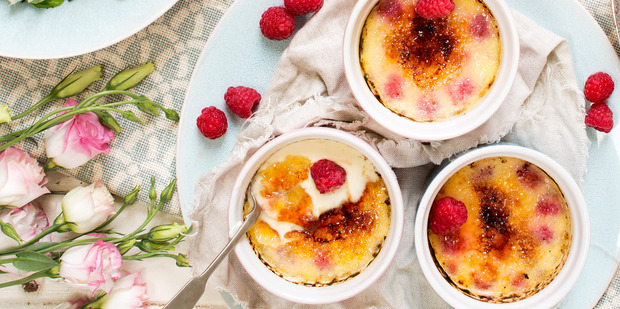 Serves 6
• 1 punnet fresh raspberries
• 300ml cream
• 300ml full milk
• 1 vanilla bean, split and seeds scraped
• 1 tsp orange zest
• 6 egg yolks
• 5 Tbsp sugar
• extra sugar for topping

1. Place 7 or 8 raspberries into six ramekins, reserving the rest for garnish.
2. In a pot, bring the cream, milk, vanilla bean, and zest to a boil. Remove from the heat, remove vanilla pod and cool slightly.
3. In a mixing bowl, beat the egg yolks and sugar until light in
4. Slowly add the cream, and mix well. Strain the mixture into a jug. Pour evenly among the ramekins.
5. Place into an ovenproof dish filled with water to the custard level.
6. Bake for 30-40 minutes, or until set. Remove, cool, then cover and place in fridge overnight.
7. Before serving, sprinkle each ramekin with a tablespoon of sugar.
8. Place the ramekins under a very hot grill, or use a blowtorch to caramelise - this process is very quick, so make sure you don't get distracted.
9. Serve with the extra raspberries.