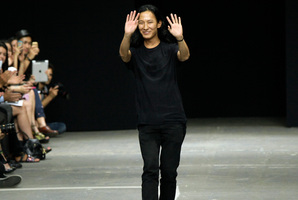 In the latest creative collaboration, hip New York based fashion designer Alexander Wang has teamed up with tech giant Samsung to create a limited edition bay.
The bag is inspired by sketches and photos by a group of influencers selected by the designer, Women's Wear Daily reports.
The group of stylists, photographers and friends will use the Samsung Galaxy Note II to produce the images, which will serve as a base for Wang to create a print that will be used on the bag.
Proceeds from the sale will be donated to ArtStart, a New York City charity that aims to nurture the creative talents of at-risk children and youths.
"I am most inspired from my everyday life and the people that surround me, so the idea of a co-creation with the people that I admire and respect the most is very exciting," Wang told WWD.
"This collaboration represents a new way that technology and style can come together. And, through a concerted effort, I am happy to be a part of supporting such a great charity as ArtStart that embraces creativity and art in a way that can change lives."
- www.nzherald.co.nz