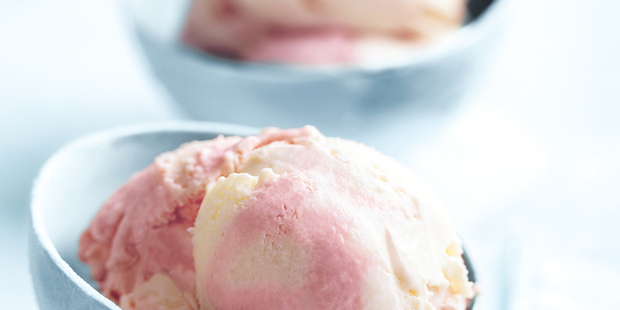 Watermelon, rosewater and frozen yoghurt swirl. Photo / Donna Hay Magazine
Serves 6-8
• 150g chopped seedless watermelon
• ½ cup caster sugar
• ½ cup vanilla-flavoured yoghurt
• ½ cup double cream, whipped
• 1 cup icing sugar, sifted
• 2 tsp rosewater
• 2 cups vanilla-flavoured yoghurt, extra
• 2 cups thick cream, extra

1. Place the watermelon in a blender and process until smooth. Place in a medium saucepan with the sugar over low heat and cook, stirring, for 2 minutes or until sugar is dissolved. Allow to cool.
2. Place the watermelon mixture in a bowl with the yoghurt and whisk to combine. Fold through the whipped cream.
3. Place the icing sugar, rosewater, extra yoghurt and extra cream in a separate bowl and whisk to combine.
4. Spoon the rosewater yoghurt into a metal tin and spoon over watermelon yoghurt. Use a knife to create a swirl. Freeze for at least 6 hours or overnight.

Tips and tricks
• Serve the frozen yoghurt swirl in cones or freeze in popsicle moulds for hand-held treats.