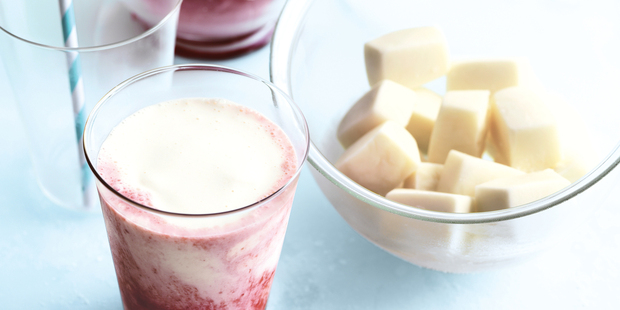 Nectarine and yoghurt smoothies with raspberry syrup. Photo / Donna Hay Magazine
Serves 4
• 4 cups thick Greek-style natural yoghurt
• 3/4 cup honey
• 1/3 cup lime juice
• 8 white nectarines, peeled and stones removed
Raspberry syrup
• 375g fresh or frozen raspberries
• 1/2 cup caster sugar

1. Place the yoghurt, honey and lime juice in a bowl and whisk to combine. Pour into an ice-cube tray and freeze for 4 hours or until frozen.
2. While the yoghurt cubes are freezing, make the raspberry syrup. Place the raspberries and sugar in a medium saucepan over low heat and cook, stirring, for 5 minutes or until the raspberries have broken down.
3. Increase the heat to high, bring to the boil and cook for 1 minute. Allow to cool completely and strain the mixture, reserving the syrup.
4. Place the yoghurt cubes and nectarines in a blender and process them until smooth. To serve, divide the raspberry syrup between glasses and top with the blended yoghurt and nectarine mixture.

Tips and tricks
• Add your favourite summer fruits to the yoghurt smoothies, such as banana and mango.