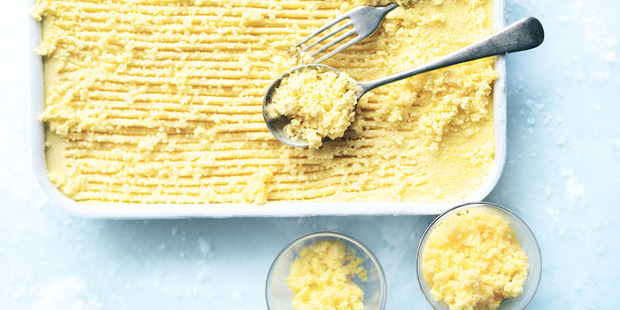 Serves 8-10
• ¾ cup caster sugar
• 1 cup water
• ½ cup white rum
• 1kg chopped pineapple
• ¼ tsp table salt
• 2 cups vanilla-flavoured yoghurt

1. Place the sugar, water and rum in a small saucepan over low heat and cook, stirring, for 2-3 minutes or until the sugar is dissolved. Increase heat to high and bring to the boil for 2 minutes. Allow to cool completely.
2. Sprinkle the pineapple with the salt and place in a blender with the cooled sugar syrup. Process until smooth. Place in a bowl with the yoghurt and whisk to combine.
3. Pour into a shallow metal tin and freeze for 2 hours. Using a fork, rake the top of the granita and freeze for a further hour. Repeat every hour for 3-4 hours or until granita is set.

Tips and tricks
• Add a little shaving of the granita to summer drinks and cocktails for an extra special treat.
For more recipes visit the Donna Hay website, www.donnahay.com.