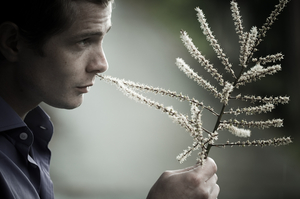 I hope Isaac Sinclair doesn't think I'm too forward, when, minutes after meeting him for the first time, I thrust my wrist under his nose.
An hour after dousing myself in my perfume of the moment, I challenge Sinclair - "the nose" from West Auckland - to recognise the scent.
Gently holding my right arm at the elbow and the fingertips, he bends in and sniffs deeply at my wrist; his discerning schnozz almost touching skin.
Each time he inhales, he cocks his head to the side and closes his eyes. After three long whiffs: "It's interesting. It has a sheep and leathery thing going on," he says.
"Is that me or the perfume then?" the farmer's daughter in me laughs nervously. Maybe the master perfumer is confused, having sniffed too much farm air in his latest quest to find the quintessential Kiwi scent.
"It's from the Beautiful Estee Lauder period," he says, going back to my arm for a few more slow and measured inhalations. "Ahh. It's J'Adore."
He nails it, first attempt.
The personality of Christian Dior's J'Adore, he explains, is a floral bouquet, but "it is sheep". On the dry-down - the critical end notes of a fragrance that kick in after a few hours and linger - there's a lot of oak moss; the rich, earthy fungus found in damp mountain forests is the base note in some of the most enduring perfumes of modern times - Miss Dior and Eau Savage, Guerlain's Mitsouko, and Chanel No.19.
Sinclair, the boy from the Waitakeres who grew up on the heady aromas of wild ginger and wet ponga, also knows his bergamot from his patchouli and myrrh. He can, with one inhaled breath, discern the subtle difference between the rose oils of Turkey, France and Bulgaria.
He denies his nose is any more special than mine. "Most people smell the same thing, it's how you process the information you're receiving. I just have a better memory for smells," he says. And yet he can still tell a wisp of a scent even with a cold clogging his nostrils.
One of only 500 perfumers in the world, Sinclair's precision in pinpointing people's perfume may have more to do with his time on a fragrance counter in Auckland's Queen St than years spent in laboratories memorising 2000 different smells.
"When I worked at Smith & Caughey's, I'd have a customer coming in every half an hour, so I would smell all the fragrances in between. I probably get it right most of the time because I was smelling them for so long," he says.
Now, 13 years on, Sinclair has to get it right all the time. He's just created a line of three fragrances for a Brazilian perfume house worth 12 million euros to his employer, Symrise, one of the world's top four fragrance manufacturers.
Sinclair's accent is like the perfumes he likes to create - a complex, seductive blend of Brazilian, Italian, Parisian and West Auckland. Tie-less, in white shirt, black jacket and jeans, he looks like a boyish version of The Mentalist's Patrick Jane.
Now living in Sao Paolo, the world's new perfume capital, Sinclair has been making regular trips home to realise a 13-year ambition - to fashion a fragrance in New Zealand that's all about New Zealand.
On his latest visit home, Sinclair headed north to Dargaville to buy sperm whale vomit - the rare ambergris used in fine perfumes to fix scent to human skin; then to Dunedin to visit his parents, who've bought an old bowling green for his gardening-mad mum to cultivate.
He also went bush as part of his job to create the exclusive new scent for local candlemaker, Ecoya. "They wanted to do a New Zealand fragrance, which hasn't really been done. It's my dream come true, it's crazy," says 32-year-old Sinclair, who has wanted to make a fragrance here since he was a teenager.
He's come up with three contenders, with the chosen one to be launched by Ecoya in a candle mid-year, along with a drier, woodier Australian scent he's also developing.
With the first aspirant, dubbed "Falling Water", Sinclair wanted to recreate the smell of New Zealand's freshwater. It's a complex job.
"Our water has a really unique smell. For years I wondered what it was, so I tracked it down," he says. "It's coming from the pongas, the tree ferns. They fall into the water, float around and the sediment gathers. It's this deep, dark, dry amber smell; but at same time it's water: transparent, fresh and green."
How on earth can you recreate transparency in a smell? "It's a sensation of transparency; you can smell through it somehow."
Perfumers use calone - an enigmatic synthetic compound (distantly related to Valium) that smells like watermelon rind or cucumber, and is used in classics like Davidoff Cool Water and Issey Miyake's L'Eau d'Issey.
His second attempt at a Kiwi scent is "Baie des Iles", based on cherished memories of visiting the Bay of Islands. Rather than replicating the water theme, this one is more about sand, sun and the warmth of the winterless North.
Of course his childhood aromas from the Waitakere Ranges are captured in his third candidate, based on our native bush - "a really aromatic, green, musky fragrance".
He grew up there, in his mother's home at Laingholm, on the rim of the Waitakeres and Manukau Harbour. His "smellscape" memory from childhood is of rimu, ponga and horopito (pepper tree), and flowers like gardenia and wild ginger weed ("it's honeysuckle on speed").
"I became a perfumer as a result of loving to smell things; it wasn't a conscious decision. But in New Zealand it's not really a possibility; you really have to be in Sao Paolo, Paris or New York. So at first I knew if I couldn't make them, the obvious thing was to sell them," he says.
It was behind the fine fragrance counter of Smith & Caughey's that he met visiting Englishman Michael Edwards, who wrote the perfume bible Fragrances Of The World. When Sinclair asked if he would need to study chemistry to be a perfumer, Edwards told him the best place to get the answer was at a conference in Grasse, the epicentre of French fragrance.
Sinclair begged his father for a ticket to Europe and a month later he was sitting among the master perfumers of the world. He was 17.
Gobsmacked that Sinclair took his suggestion literally, Edwards introduced him to Symrise's fine fragrance president, Roger Schmid, who was so impressed by the young Kiwi's determination he gave him a scholarship to attend the School of Five Senses in Milan and an apprenticeship with Symrise in Paris when his studies were completed. Sinclair still works for Schmid today, other than when he gets time off for his projects back at home.
Entrepreneur Geoff Ross found Sinclair - who is the only "nose" from Australasia - when Ecoya decided to develop more sophisticated fragrances.
"Most fragrance companies in this part of the world are happy to take their fragrances off the shelf. We wanted something more interesting, and layered, and you need a nose to create that from scratch," Ross, former chairman of Ecoya, says. "We had no idea that what we were doing was unusual - by sidestepping the suits and going straight to the nose.
"It was a stroke of coincidental genius that we paired up with Isaac. He's a massive asset to us."
Sinclair describes working for Ecoya as being handed a blank page with the freedom to conjure up an original smell. Working for a global supplier like Symrise means working to a brief outlined by a perfume brand, then competing with other manufacturers to win that contract. Only a few labels in the world - like Chanel and Hermes have their own exclusive noses.
"So Ecoya is really cutting-edge. For me, it's like going from working on a Hollywood blockbuster to an indie film. It's far more fulfilling, more creatively stimulating. They [perfume brands] don't want to take risks; Ecoya does," he says.
Both Sinclair and Ross are leaning towards Falling Water. "It's my favourite, but my tastes are a little bit acquired. For the average person, it could be a little over-the-top," Sinclair says.
This is a man who breathes in around 1000 fragrances a day but very rarely wears one himself. In the office, he can't afford to pollute his nose with his own scent but, on a special occasion, he'll wear one of his personal creations.
Last year, he created a new perfume for French fashion designer Vanessa Bruno and, in Brazil, he made men's fragrance "Humour" for Natura, Brazil's leading direct sales cosmetics company (a competitor to Avon). The fragrance described as "jovial and comfortable" has fruity top notes, a floral heart and a dry-down blending musk, sandalwood and vanilla.
"In New Zealand, that would be like creating a Calvin Klein fragrance. It's massive," says Sinclair. Brazil, after all, is now the world's biggest market for perfume - overtaking the United States and fractionally smaller than all of Europe combined.
Sinclair loves making "oriental, floriental" fragrances for a Latino audience, who wear perfume to seduce.
The English and Germans spray it on to smell clean ("let's face it, they say the French invented perfume because they didn't shower," he says) and the Americans are into sporty, citrusy smells. Kiwis are a combination of the two: we apparently like to smell fresh and clean.
"It's definitely more fun working on projects in Sao Paolo and Paris. In New York, I would get so bored. A lot of their new sports fragrances are like, 'c'mon I don't want to smell like my detergent powder'. It's more fun to make the funky, sensual, crazy fragrances than just nice smells, at least from an artistic perspective."
New Zealanders are generous in their application. "People here do use quite a lot of fragrance, but not as much as the Latinos would. But that said, we use much more than in places like China and Japan, where they don't have the culture of using fragrance."
Are we wearing it in the right places? Pulse-points like the wrists and neck are best, he says, where the blood is closest to the skin and it's warm.
But Sinclair wouldn't bother spraying on a sporty scent: "In an hour you can't smell it anymore." He'd be more inclined to wear a fragrance with "devolution" - that changes on the skin.
Can't smell your perfume after 10 minutes? That's probably because it's a monolithic fragrance. "If you brain is constantly exposed to the same smell for more than 10 minutes, it neutralises. Your brain will recognise a fragrance that changes on your skin."
It's a tall story that you shouldn't rub your wrists together; you can't bruise the perfume molecules, Sinclair assures. "And smelling coffee beans to refresh your nose when you're trying on perfume is hogwash too. It's retail psychology to keep you in the store longer," he says.
"And I don't kill virgins," he reassures me, referring to Patrick Suskind's novel, Perfume, in which a perfume apprentice stalks and murders young women in search of the perfect scent.
"It's pure fantasy. We're not weird recluses at all."
In fact, Sinclair revels in the buzzing social life of Sao Paolo. A classically trained musician in flute and piano, he plays drums in a local band, ironically called Dirty Air. "We play Led Zeppelin covers; we've done a few weddings."
The divorcee, whose marriage to a Frenchwoman broke up after three years, also loves to cook for friends. Most perfumers, he says, are fanatics in the kitchen too.
It pays to have a great nose for both, but succeeding as a perfumer in a cut-throat high-fashion industry relies on more than that.
"You have to have a great nose and a great memory, but also be very good at navigating the corporate politics. You must be great with people, your clients. It's not as simple as just creating a fragrance."
Every year, about 400 new fragrances are launched around the world. Within three years only 40 will still be on the shelves and maybe 10 of them after five years. "Time is like a filter. Most disappear after two years, because they were average," Sinclair says. "With fragrances, it's survival of the fittest."
And in the world of perfumers, Sinclair looks like he's a stayer.