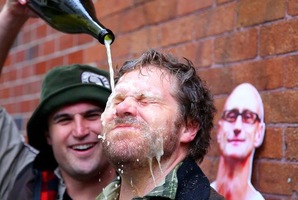 Giving up the grog for the Hello Sunday Morning programme has been challenge enough in social situations, but what happens if your work demands you drink?
Now that's a problem.
When you're on a set and the director says "drink" , you reply with an enthusiastic "how much? When? Where?"
A while back, a certain beer brand asked me to play a part to launch a "Breakfast Beer" in the US. That's right, I'm in an ad for booze coinciding with the first time in more than 10 years that I've laid off the stuff.
So was I wrong to take a sip of alcohol on set? Yes.
Luckily, I was by the door so I spat the beer right out the back door of the pub. I only narrowly missed the outdoor lighting rig. One of the sales reps asked if there something wrong with the beer. I said, "well, I'm on the wagon mate and no alcohol was to pass these lips until April Fools' Day". My dedication to the cause was admired by the Stand By Props Fella and he refilled a beer bottle with ginger ale. So next take I was free to drink.
The director asked us to toast the CEO of Moa, Geoff Ross (incidentally, they couldn't afford Geoff Ross that day so we had a life-sized cardboard cut out - and he was still the highest paid and most talented actor on set that day). "Action. Toast. And drink!" But no, I couldn't do it. My dedication to Hello Sunday Morning was too great, even with fake beer. I couldn't bring a real bottle to my lips again. Next take, as I was about to drink, I pulled out and sniffed the bottle instead. "Cut!" A visibly confused director wanders over and just asked if I would move to the back of the crowd and out of focus. The sniffing motion wasn't a success. Maybe not quite the image Moa was looking for in the US.
So I've probably found my way to the cutting room floor of this commercial but at least my HSM record is intact.
Cheers without beers and good luck with the rest of your Hello Sunday Mornings, Will