Auckland's special weekend usually dawns bright and beautiful so let's make the most of it, writes Dionne Christian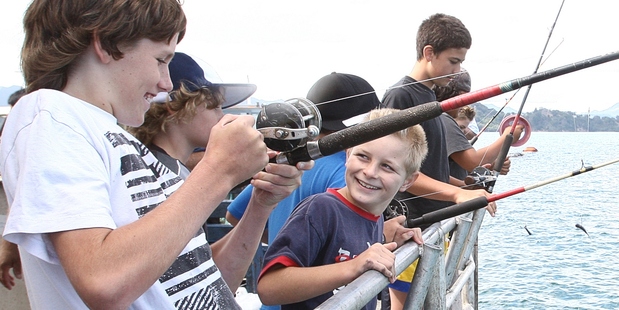 If you were planning a special celebration - a commemoration to mark a significant anniversary, for example - what would you want for it? For starters, you'd probably want sunshine, because good weather always makes things feel great, and there would have to be entertainment and, of course, scrumptious food.
If nature is kind, all these ingredients come together for Auckland's 173rd Anniversary Weekend, which offers sailing, seafood, summer sounds and stunning street entertainment.
Of course, the biggest event on the calendar is the Auckland Anniversary Regatta, which is steeped in history. Captain William Hobson's men celebrated the raising of the British flag and establishment of Auckland with an impromptu "best of three" boat race between two boats.
The event they unknowingly founded has become the largest single-day regatta in the world, comprising 16 events at venues across Auckland. Eric Mahoney, chairman of Auckland Anniversary Regatta Inc, who has sailed in the regatta since 1965, says the range of events is remarkable.
"The sight of boats and sails always sets my own heart alight and this event is something that people of all ages and from all walks of life will get a lot out of. The world has changed a lot over the decades, but Anniversary Regatta is still about one thing: boating."
The scene is set on Sunday, January 27, at Viaduct Harbour, when a fleet of heritage vessels berth from late afternoon until Monday morning, but the main events are on Monday. The timetable is:
8.30am, Tugboat Parade: Tugboats, young and old, gather at the entrance to Viaduct Harbour and parade to their start line off North Head.
The Tugboat Race begins at 9am with the craft making their way up the channel, rounding the Narrow Neck buoy and returning to finish at Devonport Wharf. North Head, East Coast Bays beaches, Devonport and Devonport Wharf are the best vantage points to see this display of speed and manoeuvrability.
A firefighting display off the Viaduct, followed by a parade, begins at 10.30am.
9am, Waka Ama Race from Okahu Bay to Princes Wharf: Followed by race displays off North Wharf until 1pm, when the canoes will offer the public a chance to have a go from the Tidal Steps until 4pm.
9am, Dragon Boat racing starts in Viaduct Harbour: Could there be a better time to watch dragon boat races than when the Chinese Year of the Water Dragon draws to a close? Given this, the boats will be in full dragon boat regalia and each 10-person crew includes a drummer to keep time. Up to 300 keen paddlers of all ages and from as far afield as the Bay of Plenty will race the 9m-long boats over a 200m course in the Viaduct Basin. The best viewing points are Waitemata Plaza, Te Whero Island or most of the restaurants in the Viaduct. The races continue until around 4pm.
10am, First start off Princes Wharf: Races begin off Princes Wharf, downtown Auckland at five-minute intervals. At noon, the Harbour Challenge starts off Orakei Wharf. This will see M Class, Flying 15, sports boats, trailer yachts, trapeze/high performance dinghies, skiffs, Foil Moths and all "off the beach" multihulls take off as they head round their harbour course. For all these races, the best places to watch from are Bastion Point, North Head, East Coast Bays, Tamaki Drive, Orakei, Queen and Princes Wharves.
From 10am, centreboard classes begin at clubs around Auckland. Those interested in watching should arrive about an hour before the advertised start time to see boats being rigged and launched.
Events include:
9.45am: Narrow Neck Beach - Sea Scouts
10am: Maraetai Sailing Club - Starling - Auckland Championships
Wakatere Boating Club (Optimist - Auckland Championships, Sunburst and Hobie 16s)
11am: Kohimarama Yacht Club - P Class, Starling, Arrow, NS 14, Splash, 29er, RS:X and techno boards; and Northcote Birkenhead Yacht Club - Idle Along, Navy Crown, YW Heron, X3, 2.4mR, Access Liberty, Jolly Boats
12.30pm: Tamaki Yacht Club - Laser, Laser Radial, Laser 4.7, Mistral and Phase II.
Meanwhile, at 10.30am, the first keelboats and trailer yachts are expected at Princes Wharf from Mahurangi, Rakino Island and Waiheke.

Tour HMNZS Te Mana
One of the Navy's two Anzac Class frigates, HMNZS Te Mana will cross the harbour to spend the weekend at Queens Wharf West supporting Anniversary Day. Te Mana will be offering tours of the ship on Saturday and Sunday, from 10am-2.30pm, so take advantage of the Navy's invitation to come to Queens Wharf West for a closer look at your Navy in action. Te Mana will join the ocean-based activities on Monday morning.
The Royal New Zealand Air Force's aerobatic team, the Red Checkers, will fly past Auckland City at 12pm.
If you like to get a gods'-eye view of racing, a group of enthusiasts are racing their radio-controlled yachts at the Marine Association Pontoon, Westhaven Marina (from 10am). Not only does this provide an opportunity to see some hard-fought racing, but also to marvel at the skill of those who created radio-controlled yachts.
New Zealand yacht designer Des Townson created many classic and modern classic designs that endure today. The Electron radio-controlled yacht, a perfect replica of its real-size counterparts, is one.
Meanwhile, International One Metre Class, racing from Wattle Farm in Manurewa for Auckland Anniversary Regatta, is arguably the most competitive of all radio sailing classes. Unlike the Electron, all IOMs are slightly different, with every designer and builder aiming for every speed advantage possible within allowable dimensions and specifications. For full details, see regatta.org.nz.
Naturally, Auckland Anniversary Weekend is busy at the Voyager Maritime Museum. Its crews celebrate Auckland's past, present and future with activities that include the Auckland Memory Booth where you can share your favourite stories about and memories of Auckland. You can discover the museum with a special City of Sails trail, join the Voyager model-makers to learn the intricate art of making your own ship in a bottle or make your own air-powered boat to race against your family and friends. There will also be special steaming trips aboard SS Puke.
For more, see maritimemuseum.co.nz.

For landlubbers
So what happens if getting out on the harbour to watch the races doesn't float your boat? Never fear, there is a range of shoreside Auckland Anniversary Day events.
Described as the ultimate seafood celebration, the 2013 Auckland Seafood Festival returns to Halsey Wharf, Wynyard Quarter for Anniversary Weekend. Tickets are just $20 and kids under 13 enter free. The festival features a tempting array of top quality seafood and local beers and wines. There's also an opportunity to watch a celebrity chef or two in action or take a class with the Auckland Seafood School and discover new mouthwatering seafood dishes. If all that leaves you needing a break, kick back and listen to music from a number of home-grown entertainers.
The kids are catered for at the Happy Snappers Club, where they can participate in activities such as treasure hunts and games. They can also try their hand at fishing in the TradeZone Kids Gone Fishin' event.
Kids Gone Fishin' has proved a hit at previous festivals and is on again at Wynyard Wharf on Saturday and Sunday from 9.30-11.30am. TV fishing celebrity Graeme Sinclair and the Police Blue Light team are on hand for fishing, face painting, spot prizes and food. For full details, including how to register for Kids Gone Fishing, go to aucklandseafoodfestival.co.nz.
Those who appreciate a drop of culture will be interested in the International Buskers Festival with 11 of the world's most dazzling street performers, acrobats, jugglers, contortionists, hula hoop artistes and comedians performing around Auckland City. The festival, now in its 13th year, goes from Friday, January 25 to Monday, January 28 with shows every day at noon and night performances on Friday, Saturday and Sunday at 7.30 at Market Square, Viaduct Harbour.
Auckland Anniversary Weekend also rocks down at Silo Park. .
The popular Laneway Festival is on Monday, but festival movers and shakers curate Silo Sessions on Saturday from midday to 6pm featuring SJD, Tigertown, Ghost Wave, Tom Lark, Sal Valentine and the Babyshakes. The performances are free. For full details, see silopark.co.nz.
Summer sounds abound on Anniversary Weekend thanks to Auckland Council's popular (and free) Music in Parks programme. Pukekohe's Samuel Miller Reserve is the place to be on Saturday from 2-5pm when alt-country band The DeSotos, supported by Bernie Griffen and The Flaming Pearls, perform.
Across town, at Northcote's Onepoto Domain, The Flaming Mudcats and Ratsmagic showcase their brand of blues, R'n'B and rock'n'roll.
On Sunday, reggae/R'n'B band Oceania Storm performs at Papakura's Central Park from 3-5pm. Monday at Maraetai will be doubly busy. It's the site of an Auckland Anniversary Regatta race and, from 2-5pm at Omana Regional Park, music by Spiral Band supported by the ever-popular ukulele maestros The Nukes and international guests Bosko and Honey.
Meanwhile, across town at Auckland Zoo, the spotlight goes on New Zealand's fantastic flora and fauna. Made in New Zealand, centred on Te Wao Nui, features special animal encounters. There'll also be fun activities such as bouncy castles and face painting. Normal zoo admission prices apply.
All this activity demands a couple of questions. Firstly, what will you do this weekend and, secondly, when Captain William Hobson sailed into Waitemata Harbour in September, 1840, could he have imagined the land before him as a metropolis where tall buildings would one day rival abundant volcanic cones for a place on the skyline? Happy Birthday Auckland.