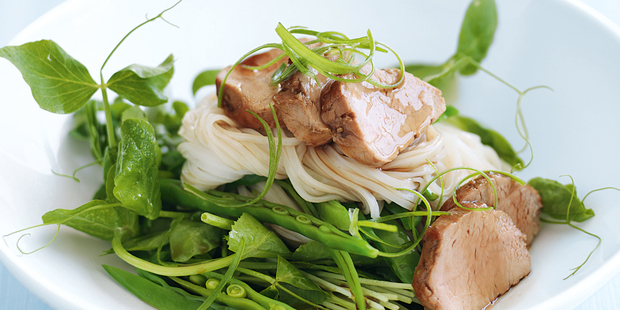 Barbecue pork and snow pea noodle salad. Photo / Chris Court, Donna Hay Magazine
Serves 4
• ½ cup char siu (Chinese-style barbecue sauce)
• 2 Tbsp water
• 600g pork fillets (tenderloin)
• 200g snow peas, blanched
• 50g snow pea sprouts
• 50g snow pea leaves
• 4 spring onions, thinly sliced
• 250g rice noodles, cooked
• 1 Tbsp rice wine vinegar
• 1 tsp light soy sauce
• 1 tsp white sugar

1. Preheat oven to 180C. Mix the char siu sauce and water in a bowl.
2. Brush over the pork and place on a baking tray. Roast for 12-15 minutes.
3. Place the snow peas, snow pea sprouts, snow pea leaves, spring onions and noodles in a bowl and top with sliced pork.
4. Place the rice wine vinegar, soy sauce and sugar in a bowl and mix to combine. Drizzle over the pork salad to serve.