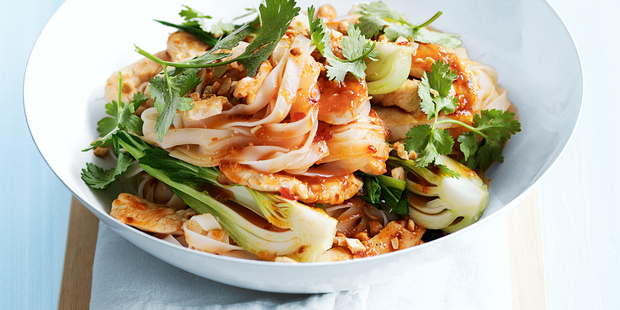 Serves 4
• 4 x 160g chicken breast fillets, sliced
• 1 Tbsp chilli jam
• 1 Tbsp lemon juice
• 1 clove garlic, crushed
• 1 tsp vegetable oil
• ½ cup cashew nuts, toasted
• 2 spring onions, chopped
• 250g rice noodles, cooked
• Steamed bok choy, quartered, to serve
• Coriander leaves, to serve

1. Brush the chicken with the chilli jam and lemon juice and crushed garlic.
2. Heat the oil in a wok or frying pan over high heat and cook for 4-5 minutes or until chicken is cooked through.
3. Place in a bowl, add the cashew nuts, spring onions, noodles, bok choy and coriander leaves and toss to combine.
For more recipes visit the Donna Hay website, www.donnahay.com.