Demand for natural products has soared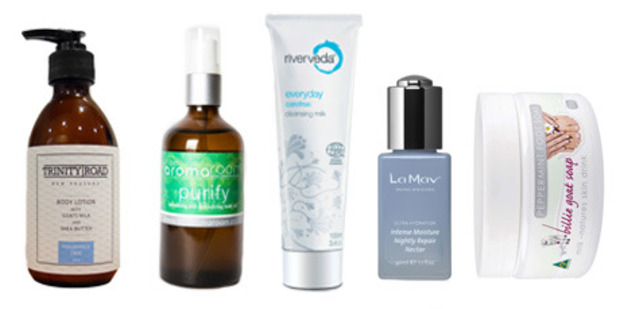 Like eating fresh fruit and vegetables, enjoying wholesome beauty products has healthy appeal.
Consumers in all sectors of the market are increasingly being wooed with talk of natural, energising items.
Though some product makers get all evangelic about the life forces of plants, others are simply jumping on the environmentally aware bandwagon in marketing standard consumer goods with a new twist.
In the middle there is a growing group combining a bit of both worlds: looking to source ingredients from nature, but keen to cash in on the connection. To ensure you are not being "greenwashed", label reading and questioning is in order.
For instance, it may sound nice to be using a vegetable rather than mineral oil, but is it palm oil in disguise and is it sustainably sourced?
As with food items, the need for clearer labelling is obvious to conscious cosmetics consumers, if not always so appealing to industry groups.
I'm not carrying a particular torch here for all-natural products - technological innovation interests me as much and there's a good case to make for synthesising some scarce natural substances to replicate their supposed benefits in chemically identical ingredients - but in honour of our Vitality issue (truth being vital and all that) we check out a few of the new more transparently authentic product choices available.
Many such products are homegrown, which taps into another trend.
A survey of 500 women aged 25 to 45 taken late last year underlines this. It showed that 80 per cent would prefer to buy New Zealand-made beauty or cleansing products. Auckland-based personal care maker Health Basics, which commissioned the research, has recognised this sentiment with a supermarket range (pictured) that cleverly uses both New Zealand place names and ingredients. Expect to see more of this trend in the year ahead.
Trinity Road Body Lotion $25.95 and Triple Milled Soap $14.95
This newish name in New Zealand skincare is starting off with just the two products, both fragrance-free and using the goodness of goat's milk and shea butter for their moisturising ability. The pitch is at the discerning gift market, rather than those with skin sensitivities who are courted by other goat's milk product makers and may not be so keen on inclusion of the common preservative phenoxyethanol. Trinity Hill says research shows a growing number of people are overwhelmed by the plethora of perfumes in body products.
We bet Cleopatra had perfume in her goat's milk bath, but Trinity Hill has a point, it's best to choose your own poison. (From selected department and gift stores and www.trinityroad.co.nz)
The Aromaroom Purify Body Oil $39
Substitute your body moisturiser with an oil made from easily absorbed plant ingredients to reinvigorate dry skin.
By choosing one with added essential oils you can also enjoy their aromatherapeutic appeal.
The Aromaroom's contains citrus, rose, geranium and other essential oils. Its formulator Keith Harvey says: "For optimum results apply in the shower on wet skin, massage over your entire body and then towel dry," (For stockists www.thearomaroom.co.nz)
La Mav Intensive Moisture Nightly Repair Nectar $79.99
This nutrient-rich skin serum comes from a certified organic bio-active Australian range notable for its scope and focus on anti-ageing. With flavour of the day ingredients such as argan and marula oils and reliable staples such as sea buckthorn seed oil and oat extract it should keep skin feeling supple. (From selected pharmacies, department and health food stores and spas, see www.lamav.com)
River Veda Cleansing Milk $34
This mild creamy formula with shea butter and primrose oils won't strip skin of its own natural oils and is gentle enough to use around the eye area. Developed by an Auckland naturopath, River Veda is split into an everyday range and others to rejuvenate and replenish. www.riverveda.com
Billie Goat Soap $11.96 and Peppermint Foot Soak $19.95
This Australian range was born out of a mother's battle to combat her son's eczema. She made soap using milk from herds she knew by name. Demand for the soaps grew among those with similar skin problems. The company has now passed into the ownership of a marketing group, but the soaps are still hand-poured. There are plain and lavender versions and being free of synthetic hardeners are so rich and creamy that a tip for users is to chop the cakes in half lest they dissolve on a wet soap dish. (Or get a soap dish that drains well). The foot soak is an example of how the original range has expanded, but it's a harmonious mix, given goat's milk contains lactic acid which has exfoliating properties tired feet may enjoy as a spin-off from a soak. (From Farmers and selected pharmacies and health stores.)
- NZH