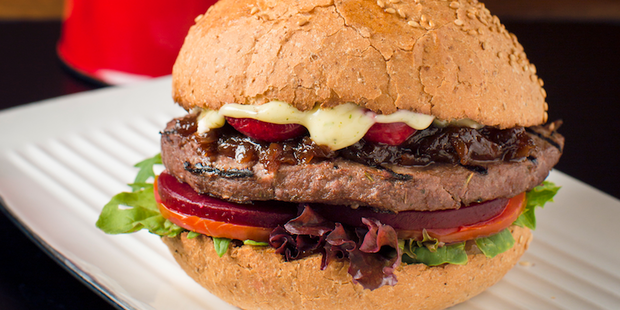 An all-Australian burger has been launched - but the move has left traditional patriots fuming.
The Coat of Arms burger, which recently went on sale at Grill'd, contains 80 per cent kangaroo meat and 3 per cent emu.
The patriotic patty is nestled in a range of Australian ingredients, such as goat's cheese and quandong.
The burger has been slammed by the Australian Monarchist League's chairman Phillip Benwell, who took issue with the use of Australia's coat of arms.
"The coat of arms represents a nation and using it in a marketing campaign rather
demeans the coat of arms and ridicules it," he said.
The burger has also earned the derision of nutritionists, who note it contains 40 per cent of the daily fat intake for an adult.
The Daily Telegraph's Grant Jones was also unimpressed, writing in his review of the burger that "the subtle flavour of the meat [is] lost amid a melody of other ingredients."
Despite this, the novelty aspect of the burger is sure to bring in customers, and its limited-edition run will also ensure its popularity.
The burger is available at only one Grill'd store per state, and is limited to 50 a day.
- www.nzherald.co.nz