Address:
387 Tamaki Drive, St Heliers, Auckland
Phone:
(09) 575 6995
Rating:
4.5/5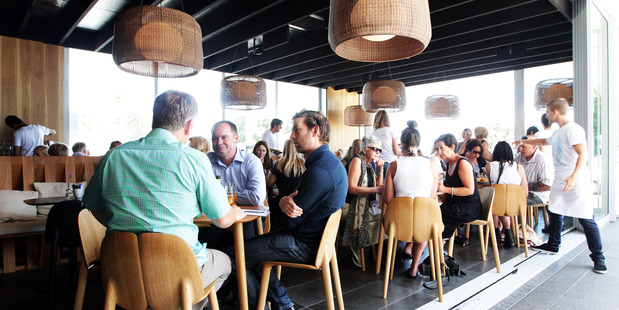 I can remember the day I first walked into Cafe on Kohi. This small box of a coffee shop and breakfast joint, by the pedestrian crossing on the Kohimarama beachfront, came into view about the same time that I was getting saddle-sore on a waterfront bike ride.
It was nothing special to look at. But within a minute or so it would impress as a cut - no, make that several cuts - above the competition. Water glasses landed on the table about the same moment as we landed on the seats; the place was packed but the food came quickly (though care and skill had been lavished on its preparation); the staff were bright and gracious, friendly without being familiar and unbelievably professional and efficient; the scrambled eggs were dangerously good; the coffee was first-rate and arrived precisely when we had specified in relation to the food.
On subsequent visits, the experience has been unfailingly of the same high standard. Of Auckland establishments, only the evergreen Prego is so reliably and predictably flawless. It is little wonder that proprietors Scott Brown and Jackie Grant have prospered as their small empire has expanded to Rosehip in Parnell, Richmond Rd Cafe in Grey Lynn, and Takapuna Beach Cafe.
I've always hungered for the chance to sing their praises in print, but their operations have all been daytime-only and this column, perhaps arbitrarily, restricts itself to places that are open at night. Then word reached me that they had set up a bistro in St Heliers.
Not that it was easy to find. There was only the faintest trace online and the phone number number above, which is on the bill, doesn't connect yet. There wouldn't be much point in calling it though, because they'd just tell you - terribly politely - that they don't take bookings. Hell, they don't even have any signwriting on the door or windows, but you will recognise the place instantly: trust me on this.
If I was feeling pleased with myself at having got there before anyone else had heard of it, the smugness evaporated as soon as we arrived: it was packed and several people were loitering hopefully in the doorway. Fortunately, there is a splendid high slate-topped table where you can take in the view (the pohutukawa are still in bloom) while you wait for a table.
The restaurant occupies half of an uninspiring commercial building - the other half is a bank - that has been minimally though cheerfully dressed up: big faux-cane lampshades soften the straight lines and the tables and chairs are of a beautiful blond-wood veneer. The back wall is green tile and the kitchen is in full view.
The daytime menu, which starts with the muesli and blueberries, contains the signature flourishes, such as crab and chive in the scrambled eggs, that regulars at other Brown/Grant establishments will recognise. The problem I found with the evening menu was that there was not a single item on it that I didn't want to try.
A handsomely presented fish'n'chips and a burger (pulled pork, emmental, apple slaw) seemed in high demand. Small and tasty Whangamata scallops were paired with lime segments; the roasted beets came with mint and orange. Alas, the duck sausage, dressed with an oily prune and pinenut sauce, had sold out - scarcely surprising; we learned later they had served 900 meals that day.
There were stumbles: a plate of pickled, marinated and raw vegetables (radish, cucumber, mushroom) seemed scarcely worth naming as a dish even with the addition of a nice horeseradish cream, and the hazelnut gnocchi were poor - the texture closer to that of banana cake than the firm, even rubbery, bite required. But having been told of our discontent, the maitre d' showed a genuine interest in our objections (no, he didn't recognise me) and shouted us a dessert.
As to the rest, a serve of calf's fry and bacon with a wickedly buttery potato gratin showed the kitchen's effortless command of the basics. The burrata (a mozzarella derivative) demonstrated the wisdom of using the very best ingredients (in particular, oils and breads) and getting out of their way. And the desserts included a crumble with perfectly sweet-sour fresh apricots that hummed with summer.
A wine list intelligently divided into sections with user-friendly descriptions - crisp aromatic whites; elegant perfumed reds - is another of many smart touches. Get along here soon: the table is well worth the wait.

Verdict: Another triumph for Brown and Grant.