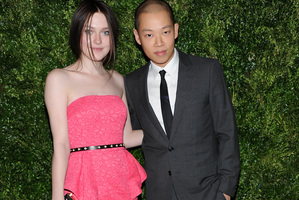 Jason Wu says Stephanie Seymour was the perfect muse for his latest collection.
The 44-year-old model inspired the line and appears in the advertising campaign to promote the pieces.
In one image, Seymour is seen lounging on a red velvet chair, dressed in a pair of black trousers with lace inlay down the sides. Her black blouse is made of silk, with chiffon sleeves and a large bow around the neck.
"I wanted to cast a strong woman with definite sex appeal for my spring collection, which was partly inspired by Helmut Newton's provocative photographs," Wu told Women's Wear Daily.
"Stephanie came to mind as the perfect muse for this collection and the fact that she has worked with Newton just made perfect sense."
The model was only too happy to pose in the campaign and has given the 30-year-old designer her seal of approval.
"He looks like a 20-year-old FIT [Fashion Institute of Technology] student, but has the skill of a great couturier of the past," she said.
The campaign will feature in magazines and will be displayed around Manhattan when New York Fashion Week kicks off next month.
It's been a busy time for Wu, whose contemporary line Miss Wu launched in Nordstrom stores this week. US First Lady Michelle Obama was seen in a green dress from his collection last year.
"I was sending her some clothes, so I thought I would send her some Miss Wu pieces," the designer told The Daily Beast.
"She's so great at mixing different price points of clothes, she always makes it work and looks really good."
- COVER MEDIA