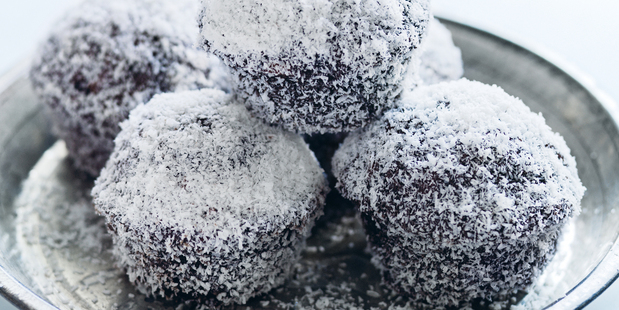 Lamington muffins. Photo / Donna Hay Magazine
Makes 12
• 160g unsalted butter, at room temperature
• 3/4 cup caster sugar
• 1 tsp vanilla extract
• 2 eggs
• 3 cups plain flour, sifted
• 2½ tsp baking powder, sifted
• 3/4 cup milk
• 40ml buttermilk
• ¼ cup raspberry jam
• 3 cups icing sugar, sifted
• 3/4 cup cocoa
• 1 cup boiling water
• 75g unsalted butter, extra, melted
• 3 cups desiccated coconut

1. Preheat oven to 180°C. Place the butter, sugar and vanilla in an electric mixer and beat for 8-10 minutes or until pale and creamy.
2. Gradually add the eggs and beat until well combined. Add the flour, baking powder, milk, and buttermilk and beat until just combined.
3. Spoon 2/3 of the mixture into 12 x ½ cup-capacity lightly greased tins and make a hole in the centre.
4. Divide the jam between the muffins and top with the remaining mixture. Bake for 20-22 minutes or until cooked when tested with a skewer.
5. Cool on a wire rack. Mix to combine the icing sugar, cocoa, water and melted butter.
6. Toss the muffins in the cocoa mixture and roll in coconut. Allow to set.

Tips and tricks
You could fill the lamington muffins with your favourite jam or even choc-hazelnut spread or store-bought caramel filling.