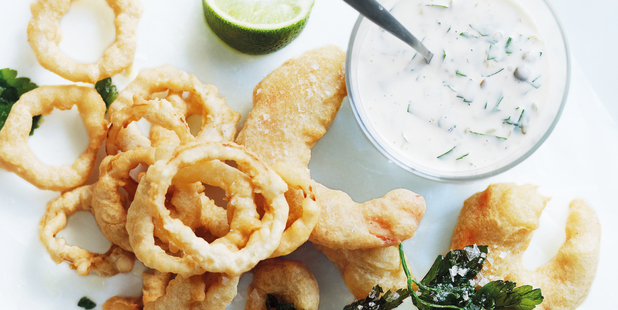 Serves 4
• Vegetable oil, for frying
• 1 cup rice flour, plus extra, for dusting
• ½ cup pale ale or lager beer
• ½ cup soda water
• 20 green (raw) tiger prawns, peeled
• 2 baby onions, sliced
• 1 cup flat-leaf parsley leaves
• Lime wedges, to serve
Lime tartare sauce
• ½ cup whole-egg mayonnaise
• 8 cornichons, chopped
• 1 Tbsp salted capers, rinsed and chopped
• ½ cup flat-leaf parsley leaves, chopped
• 2 Tbsp lime juice

1. To make the lime tartare sauce, mix to combine the mayonnaise, cornichons, capers, parsley and lime juice. Set aside.
2. Heat the oil in a saucepan over high heat until temperature reaches 180°C on a deep-frying thermometer. Whisk the flour, beer and soda water until smooth.
3. Dust the prawns and onion in extra flour, dip in the batter, shaking to remove excess and cook, in batches, for 2-3 minutes or until golden. Drain. Cook the parsley for 1 minute or until crisp. Drain on absorbent paper.
4. Serve the prawns and onion with parsley, tartare sauce and lime.

Tips and tricks
Try adding dried chilli flakes or paprika to the beer batter for the prawns and onion rings.
For more recipes visit the Donna Hay website, www.donnahay.com.