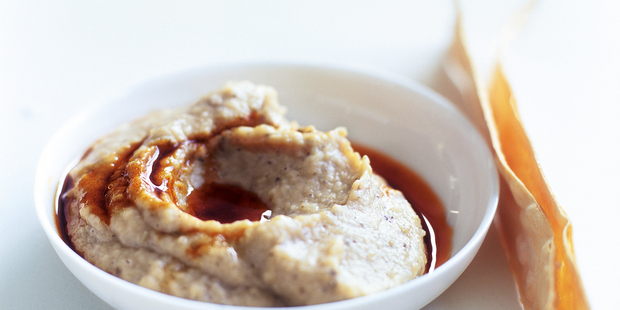 Makes 2 cups
• 1 head garlic, halved
• Olive oil, for brushing
• 300g eggplant, halved
• 1½ tsp ground coriander seeds
• 1 x 400g can white beans, rinsed and drained
• 1 Tbsp lemon juice
• Sea salt and cracked black pepper
• Lavash bread, toasted, to serve
Paprika oil
• ¼ tsp sweet paprika
• 1 Tbsp olive oil
• ¼ tsp sea salt flakes

1. To make the paprika oil, place the paprika, oil and salt in a bowl and stir to combine. Set aside. Heat a chargrill pan or barbecue over high heat.
2. Brush the garlic with oil and wrap in 2 layers of aluminium foil. Brush the eggplant with oil and chargrill or barbecue the eggplant and garlic for 15-20 minutes each side or until soft.
3. Cool slightly and scoop the flesh of the eggplant into the bowl of a food processor with the peeled and roasted garlic, coriander, white beans, lemon juice, salt and pepper.
Process until smooth.
4. Spoon over the paprika oil and serve with lavash bread.
For more recipes visit the Donna Hay website, www.donnahay.com.