Dishes such as green curry don't have to be changed much to suit European tastes.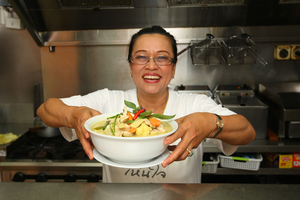 Almost 18 years after Payao Chomkhunthod opened her first Thai restaurant in Auckland, the chef who now owns a chain of restaurants says Thai has been the "most successful cuisine" to be introduced here.
"It is as popular as Indian and Chinese, but the difference for Thai food is that we don't really have to change it too much to suit European taste," she said.
"Kiwis are familiar with Thai food because many have been to Thailand, and some of our customers actually request that we try to cook our food similar to how it tastes over there."
Gaeng Keow Wan Gai, or Thai green curry chicken, is the most popular curry dish sold at her Zap restaurants, and she believes that's because of its uniqueness.
"It is unique to Thai cuisine and people are curious about why the curry is green, they order and then they get hooked," she said.
Green curry can be as hot as the red and yellow curries, but is sweeter.
The paste is made by pounding green chillies, shallots, garlic, galangal, kaffir lime peel, roasted coriander, cumin seeds, shrimp paste, salt and pepper.
Ms Chomkhunthod said the commercially made green curry paste sold at Asian supermarkets are "just as good" and she uses the Cock brand paste at her restaurants.
"Brands are not really that important, but people who buy the paste must make sure it is a product of Thailand or risk getting something that taste completely different," she said.
For cooks at home, fry a small amount of paste and add coconut milk - the consistency of the curry depends on how much coconut milk is used.
Add the chicken, then vegetables such as carrots, broccoli and eggplant, with fish sauce and palm sugar to taste.
Kaffir lime leaves, which are often used in Thai cooking, should also be added to add a flora-citrus aroma to the curry, she said.
"After a few practices, it is possible to get the curry to be just as good as what you find at Thai restaurants," Ms Chomkhunthod added.
Her tip to bring the best out of green curry is to add Thai basil and fresh chilli just at the end of cooking to make it more fragrant.
Gaeng Keow Wan Gai
(Thai green curry chicken)
Chef: Payao Chomkhunthod, Zap Restaurants
Recommended paste: Cock brand or any other green curry paste produced in Thailand
Where to buy: Most Asian supermarkets
What you need: diced chicken, oil, green curry paste, coconut cream, bamboo shoots, vegetables, fish sauce and sugar
To Cook:
* Heat oil in pan and add paste to taste
* Add diced chicken and fry till slightly cooked
* Add a can of coconut milk and leave to simmer
* Add bamboo shoots and other vegetables of choice
* Fish sauce, sugar to taste
* Serve with steamed rice
(Curry paste packets carry full cooking instructions)