City chefs give diversity reporter Lincoln Tan some choice tips on how to make some of their favourite dishes at home.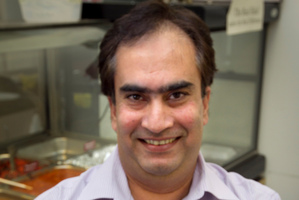 Hyderabadi biryani, a spicy rice dish made with basmati rice and lamb or chicken meat, is something that chef Abdul Hannan cannot do without.
Mr Hannan, owner of Akbar Durbar, a central city Indian takeaway, says back in the south Indian town of Hyderabad where he came from, biryani is its staple.
"Eating biryani is a way of life for us and not a week passes without us having a biryani meal," he said.
"All of India knows that Hyderabadi biryani is the best."
Butter chicken may have fuelled north Indian cuisine to fame, but Mr Hannan believes biryani could do the same for south Indian food.
Hyderabadi biryani is unique as the raw rice and meat is cooked together with spices, unlike biryanis elsewhere where they are cooked separately and then mixed.
The rice and meat is cooked together in an earthen pot, known as a handi, with spices and just a little water.
"The richness of Hyderabadi biryani is because of this unique style of cooking, that brings out the rich flavours of the spices into the meat and rice."
The cooking-style, known as "dum", can be traced back to Persia and the dish is a result of the blending of Mughlai and Andhra Pradesh cuisines, historians believe.
Mr Hannan says it would be "impossible" for Hyderabadi biryani to be cooked by amateurs, however the commercially produced paste could be a good introduction to biryani.
"But what they will get is just biryani and not Hyderabadi biryani," he emphasised.
Mother's recipe brand biryani paste, found in local Indian supermarkets, would be the simplest to use, as other pastes require far more preparation. The paste is turned into a curry and is mixed with rice that has been cooked separately, and then left to simmer until dry.
The details
Chef: Abdul Hannan, Akbar Durbar, Hobson St
Dish: Biryani
Recommended paste: Mother's recipe biryani paste
Where to buy: Moshims or other Indian grocery marts
What you need: Basmati rice, saffron powder, chicken or lamb, yoghurt, onions and biryani paste
To cook:
*Boil rice till done, add saffron powder soaked in warm milk and mix well.
*Saute chopped onions, oil and ghee in a separate pan until brown.
*Add biryani paste and choice of meat, either chicken or lamb, and water and leave to simmer.
*Mix rice with the curry and simmer on low heat.
*Full cooking instructions and portions on paste bottle.