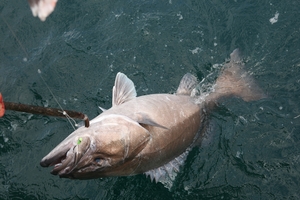 The influx of holidaymakers on the coast all around the North Island always has an effect on fish populations.
Basically, the upsurge in boat traffic and other noisy toys such as jet-skies undoubtedly scares fish and, with a little imagination, you can picture fish hiding under rocks with their fins wrapped around their ears. Local residents know that fishing gets hard in January and wait until life returns to the normal sedate pace after schools go back before they get serious about fishing. Aucklanders who hitch up the boat, load up the family and head for the Coromandel or Northland are actually driving away from the best snapper fishing in the country, which makes it the best in the world.
Snapper move into the Waitemata Harbour and inshore channels around Rangitoto and other islands, and fishing just gets better and better.
But for the keen holidaymakers who want to find a fish for dinner there are a few tricks which can improve their chances. For a start, getting up early helps - that means early as in "while it is still dark". Launch the boat when there is enough light to see and get the first baits in the water as soon as possible.
It will all be over by the time the sun rises, but an hour and a half is all you need if there is a current running. Check the tide tables and keep away from slack tide. The more current the better is the old adage which applies to all fish, except when chasing hapuku and this is simply because slack tide allows you to drop baits in super-deep water. A similar routine applies to the other end of the day, and fishing into the darkness will help.
If targeting snapper, plenty of berley will increase your chances and fresh bait is always a good approach. It is fun getting the kids to catch sprats and yellowtails off a wharf, and piper is about the best bait of all. They can usually be found around the wharf and will take tiny baits on the smallest of hooks, which are floated out with no sinker. Maggots are the best bait for piper, but there is generally a shortage of these fat little wrigglers at most holiday centres. The squiggly end-piece of a squid tentacle is a good back-up and, if using pilchards, a tiny strip from the shiny silver belly is best for piper.
Piper and mackerel, like yellowtails, are better bait than sprats, and if there are any slimy mackerel around they are the best of all. They are rich in blood and oil, which can send snapper crazy and, as live baits, kingfish climb all over them.
Baitfish can also be caught in the shallows on most beaches. A handful of bread crumbled and mixed with sand tossed out will soon bring the fish close and wading around them with a bait net is also fun for youngsters.
There is no minimum size or limit on the number of sprats or piper which can be taken, but nets must have mesh no smaller than 25mm. There is nothing wrong with piper fried in breadcrumbs and eaten like a corn cob.
Another approach is to fall back on the old insurance policy - a longline. These can be set offshore in deeper water - about 30m is usually fine - but keep away from rocks and reefs where they can get tangled. If there is any wind the boat can drift with the breeze while the traces are attached, but a sharp knife should be kept handy because if a hook catches in a finger, or anywhere, it should be cut off instantly as the weight of the line in the water pulling against the boat can create a nasty situation. Things can turn ugly very quickly on a boat. Tough baits such as fresh mullet or kahawai, or chunks of sprat or yellowtail, work better than frozen stuff, such as pilchards, which comes off easily. Small chunks with the hook threaded through the tougher skin will catch more fish than big baits. The unfriendly propensity of some people to help themselves to other people's gear can be a problem, so fishing a couple of hundred metres away from the longline is a good idea.
The law requires all floats to be identified with the owner's name and initials, and one person may have only one longline with no more than 25 hooks. Two such lines are allowed on a boat provided there are at least two people on board.
Another option is to send out a line from the shore with an electric-powered kontiki. There is a wide range available, and the latest from Seahorse and GT Kontiki have autopilot systems which keep the torpedo on a straight track.
The same baits apply, and more fish will be caught at night than during the day.
Toasting sausages on a fire on the beach (where permitted) while the line is stretching for a kilometre out to sea fishing for you is a pretty nice way to spend a few hours at night. Lines can be left out for an hour - any more and crabs and small fish will probably destroy the baits. On the west coast, where sharks are attracted to hooked fish, half an hour is safer.