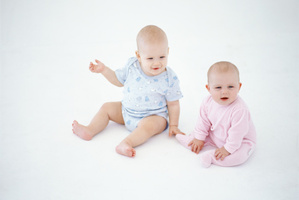 Olivia has bumped out Ruby for the title of the most popular girls' name and Jack has beaten out Liam for boys' names.
Olivia has bumped out Ruby for the title of the most popular girls' name, and Jack has made it back as the most popular boys' name after spending a few years down the list.
In 2011 Ruby was the most popular girls' name, but that was shunned to fifth place last year as Olivia moved up from second to first spot, data released today by the Department of Internal Affairs shows.
For boys, in 2011 Liam was the most popular name, but that fell to fourth place last year, with Jack moving up from 10th.
The name Jack was most popular from 2005 to 2009, but fell off the top three list in recent years.
Rochelle Gribble, who runs parenting advice website KiwiFamilies.co.nz, said names went in waves of fashions.
She pointed to the name Ava, which last year was the 10th most popular name.
"We know about three or four little Avas, and until probably three years ago I'd never really heard of Ava as a name, and then all of a sudden Ava is everywhere."
She said choosing a name required a lot of thought. "For me, when I'm considering names, you don't want them to be one of 20 whatevers in the class, but then also you don't necessarily want them to be the child with the really strange name either."
She knew one woman who decided she did not want to pick a name which featured in the top 50 list, but had to feature in the top 100 list.
"So it wasn't really, really common, but not totally weird."
Mrs Gribble, who has two preschool girls named Caitlin and Thalia, said name choice was quite personal, and most people preferred to keep the name of their child to themselves until the child was born.
She did not know of anyone who had changed their child's name after deciding they did not like their original choice, but said she was aware that this happened.
"I do know people who've taken quite a long time to decide, and they've tried out different names and they've not really told anybody a name for a period of time and after a week or two have said 'and the child shall be ...' "
In the top 10 list for boys, Mason made the biggest leap, from 15th place in 2011 to fifth place last year.
For girls, the jump was not so dramatic, with Sophia pushing up from 15th in 2011 to ninth in 2012.
Top 10 girls' names last year (2011 place in brackets):
1 Olivia (2)
2 Sophie (3)
3 Emily (9)
4 Charlotte (5)
5 Ruby (1)
6 Isabella (4)
7 Ella (7)
8 Amelia (10)
9 Sophia (15)
10 Ava (12)
Top 10 boys' names last year (2011 place in brackets):
1 Jack (10)
2 Oliver (3)
3 William (5)
4 Liam (1)
5 Mason (15)
6 Samuel (7)
7 Jacob (11)
8 Lucas (4)
9 Ethan (16)
10 Noah (6)
- APNZ