Former Wellingtonian will spend most of her break in Colorado.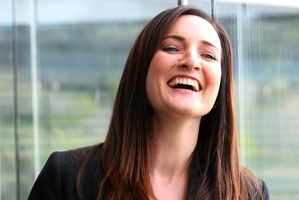 Claudia Batten seems more like a Mad Men character than an expat Kiwi. The Wellingtonian's career began in law but quickly grew to dotcom success in New York, before she sold up and launched successful ad-hoc advertising agency Victors & Spoils.
The now multi-millionaire left her home and job in Wellington to move to New York 11 years ago. While there she met her future business partner Mitch Davis, who had developed a method for inserting advertising into video games. The duo poured their blood, sweat, tears and spare cash into the company, Massive, and it was a success. So successful, in fact, it was sold to Microsoft in 2006 for an estimated $244 million to $488 million. In late 2009 she was co-founder of Victors & Spoils, the first ad agency built on the principles of crowd sourcing.
Last year, French holding company Havas bought a majority interest in the agency, positioning V&S for international expansion.
Rather than relying on its own staff to dream up creative ideas, her company, Victors & Spoils, sends out client briefs to a vast network of creative people around the world, and rewards the person with the best idea.
The firm began attracting big-name clients such as Virgin America, Coca-Cola and Levi's. Batten is a member of the World Class New Zealand network and loves nothing more than coming home for summer.
What do you most look forward to about coming home for summer?
I am home for a week this summer, it's by no means a "proper Kiwi summer". When I brought my husband to New Zealand for the first time we did the quintessential Kiwi bach holiday: Bay of Islands, fishing, eating crayfish, drinking Mac's Gold, reading millions of books, and enjoying hokey-pokey ice-cream. But long or short trip, there is nothing in the world like getting off the plane in Auckland in summer and breathing in the New Zealand air. It's like meeting an old friend.
Where will you spend your time this summer?
Well, I will be having a winter in Colorado. Actually, we are driving down to Texas from Boulder, a road trip to visit my in-laws. I love road trips in America. They represent freedom and allow me to completely disconnect. There is something about the movement (and the lack of wifi). We are planning to go to Marfa on this trip. We have been dying to see the town and haven't had the time before. That and a big bunch of dinner parties I think will define our holidays. We love to have the house full of friends, food and music.
What books will you be reading this summer?
I just started A Brief History of Thought by Luc Ferry. I have never been able to get into philosophy before but I am finding this really approachable. Fingers crossed I make it through it. I have a stack of 20 books and another 15 on my iPad that I am slowly making my way through.
What's December like where you live?
I'm in Boulder, Colorado, at the foot of the Rocky Mountains. It's typically cold and snowy over Christmas. I have really grown to love it but feel this inner conflict between wanting a white Christmas and memories of being on the beach for Christmas Day.
What dish will you be cooking on the barbecue this summer?
If I have a choice it's crayfish. You could give me just about any fish from New Zealand and I would be happy. My mother brings me a couple of kilos of frozen tarakihi and snapper whenever she comes to the US.