Each week, Wendyl Nissen takes a packaged food item and decodes its contents.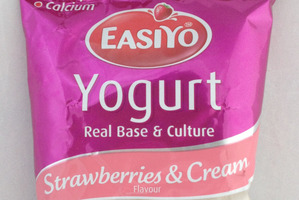 Easiyo Yogurt
Strawberries and Cream
$4.49 for 200g
(makes 1kg yoghurt)
I've had a lot of correspondence this year about Easiyo yoghurt sachets. One reader says it doesn't taste the same as it used to. Others say how much they love making their own yoghurt but ask if it is as good for you as the commercial yoghurts.
Making your own yoghurt is as easy as adding 4 tablespoons of plain yoghurt to 900ml of lukewarm milk and storing it wrapped in a blanket or similar, somewhere warm such as a hot water cupboard for 12 hours.
Click here to read Wendyl's columns on other food products.
But many people find that mixing these sachets with water is an easier option and if you purchase the Easiyo yoghurt maker you don't need to wrap it in blankets.
Ingredients (in order of greatest quantity first):
Pasteurised whole milk solids (67%)
From free range cows, (contains natural emulsifier, lecithin, derived from soybean).
This is what is left of milk once you take the water out.
The reference to free range cows is a bit amusing for a New Zealand market as all our cows are free range, but this is probably in there for their overseas customers.
Real yoghurt is 100 per cent milk so this shows that 33 per cent of the yoghurt mix is made up of additives.
Sugar
This will be in here for flavour. For 100g of this product, when made up, you will get 13.6g or about three teaspoons. Real yoghurt does not normally have sugar added so this will be in here for flavour.
Live lactic cultures (L. bulgaricus, S. thermophiles, L. acidophilus)
Because the instructions for making this yoghurt do not include using hot water, any live cultures in here will not be killed off as they often are in commercial yoghurts which are heated to high temperatures.
The three cultures in here are Lactobacillus bulgaricus, Streptococcus thermophiles and Lactobacillus acidophilus. They are probiotics which are beneficial bacteria defined by the World Health Organisation as "live micro-organisms that when administered in adequate amounts confer a health benefit on the host".
These "friendly germs" have benefits on the colon and the immune system by restoring microbial balance in the intestine.
Flavouring substance
This will be artificial and will be in here to give the yoghurt a strawberry flavour.
Natural colour (beetroot red)
Nice to see natural colour used in here, in this case taken from beetroot.
My recommendations
There's not a lot wrong with this yoghurt except for the artificial flavour to make it taste like strawberries.
Making your own yoghurt is easy to do and many people prefer it to buying it ready made.
But surely one of the best reasons for making your own is to ensure it is free of additives such as artificial flavours?
As strawberries are in season, and they are a particularly good crop this year, why not make the plain Greek yoghurt offered by Easiyo and add chopped up strawberries. That way you are doing without the added sugar and the artificial flavour.

Highlights
*3 teaspoons of sugar per 100g.
*Artificial flavour to make it taste like strawberries.
*Three beneficial probiotic live cultures.
Do you have a food product you would like to feature?
Email wendylwantstoknow@gmail.com with suggestions. Unfortunately, Wendyl cannot correspond with readers.