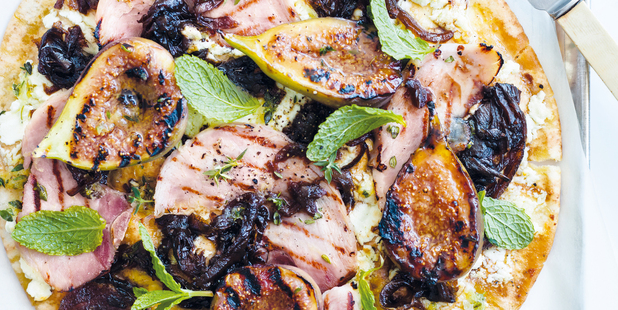 Ham, asparagus and dill pasta. Photo / Donna Hay Magazine
Serves 4.
• 300g leg ham, sliced
• 2 Tbsp olive oil, plus extra, for brushing
• 1 Tbsp thyme leaves
• 1 tsp finely grated lemon rind
• Sea salt and cracked black pepper
• 6 figs, halved
• 240g goat's cheese, crumbled
• ½ cup store-bought caramelised onion relish
• 2 large Lebanese flatbreads
• 1 cup mint leaves

1. Preheat oven to 200°C. Heat a chargrill pan over high heat. Brush the ham with oil and cook for 1-2 minutes each side or until lightly browned. Set aside.
2. Place the oil, thyme leaves, lemon rind, salt and pepper in a bowl and mix to combine. Brush the figs with the thyme oil and cook, cut-side down, for 2 minutes or until lightly charred. Set aside.
3. Place the flatbreads on lightly greased baking trays and brush with the thyme oil. Spread with the goat's cheese and top with the caramelised onion. Bake for 8-10 minutes or until the base is crisp and golden. Top with the ham, figs and mint leaves to serve.