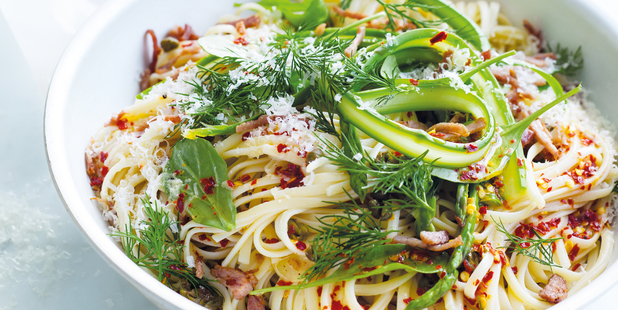 Spicy pasta. Photo / Donna Hay Magazine
Turn succulent leftover ham from Christmas Day into more than just toasted sandwiches with these quick and tasty meals. This spicy pasta, golden fritters and chic pizza make ham the star of the table, even after the festivities are over.

Tips and tricks
• Talk turkey - You could also make the fritters with leftover cooked turkey. Try adding some finely grated parmesan for a deliciously cheesy flavour, and serve with caramelised onion relish.
• Pasta flair - Fresh pasta also works well with smoked trout or salmon. Pizza twists. Try spreading the pizza with ricotta, instead of goat's cheese, for a milder flavour. You could also try drizzling the pizza with store-bought pesto to serve.