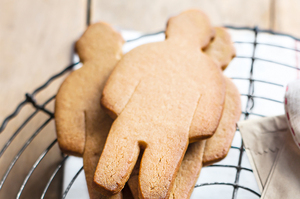 Gingerbread men. Photo / Donna Hay Magazine
Makes 16.
• 125g unsalted butter, softened
• ½ cup brown sugar
• 150ml cup golden syrup
• 2½ cups plain flour, sifted
• 2 tsp ground ginger
• 1 tsp baking soda

1. Preheat oven to 190°C. Place the butter and sugar in an electric mixer and beat for 10-12 minutes or until pale and creamy.
2. Scrape down the sides of the bowl, add the golden syrup, flour, ginger and baking soda and beat until a smooth dough forms. Refrigerate for 30 minutes.
3. Roll the dough out between 2 sheets of non-stick baking paper to 5mm-thick. Refrigerate until firm.
4. Use a large gingerbread man cookie cutter tocut shapes from the dough. Place on baking trays lined with non-stick baking paper and bake for 8-10 minutes or until golden.
5. Allow to cool completely on trays.