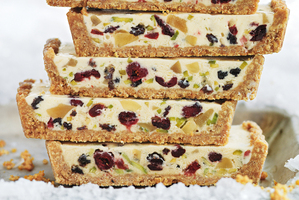 Serves 8
• 500g store-bought hard ginger biscuits
• 180g unsalted butter, melted
• ¼ cup dried sour cherries
• ¼ cup currants
• ½ cup sweetened dried cranberries
• ¼ cup glace ginger, chopped
• ¼ cup slivered pistachios
• 1½ Tbsp warm brandy
• 340g store-bought vanilla icecream, chopped

1. Place the biscuits in a food processor and process until the mixture resembles breadcrumbs. Add the butter and process until well combined.
2. Reserve 1½ cups of the ginger crumble. Use the back of a spoon to press the remaining crumble into the base and sides of a lightly greased 34cm x 1½ cm loose-bottomed, fluted tart tin.
3. Refrigerate for 1 hour or until set. Place the cherries, currants, cranberries, ginger, pistachios and brandy in a bowl and set aside for 20 minutes.
4. Place the icecream in an electric mixer and beat on low until softened. Stir through the fruit mixture and spoon into the tart shell. Freeze for 3-4 hours or until completely set. Sprinkle the tart with the reserved ginger crumble to serve.
For more recipes visit the Donna Hay website, www.donnahay.com.