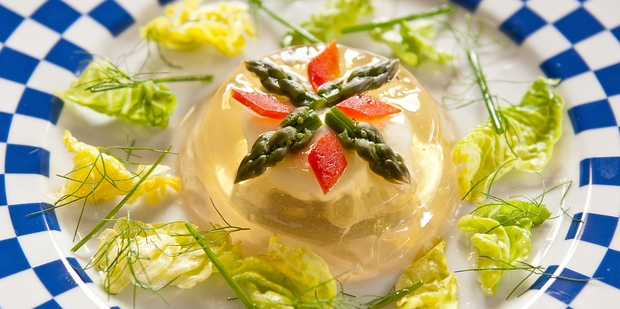 This is a little retro oddity but to me speaks strongly of the Cordon Bleu aesthetic. It is a very lovely summer dish, a stylish lunch or entree dish and not too difficult to make.
Serves 8
30g of celery and carrot, chopped
The white of one leek, chopped
10g of parsley, chopped
A few sprigs of tarragon, chopped
10g of crushed peppercorns
4 egg whites
1.5 litres of strong chicken stock
Powdered gelatine
100ml of white port
salt and freshly ground pepper
8 eggs
Red pepper
Asparagus tips
1 Mix together celery, carrot, leek, herbs, peppercorns and egg whites.
2 Combine with the stock in a pan and slowly bring to the boil, stirring constantly but gently. When the egg whites start to solidify into a soft crust, stop stirring and simmer on a low heat for 20 mins.
3 Strain through a muslin-lined sieve. Do not press the solids, just let the stock drip through. This is called clarification. It removes all the impurities from the stock resulting in a clear sparkling liquid.
4 Measure out the stock. Mix the powdered gelatine as instructed on the packet to set the volume you have achieved.
5 Add this to the stock with the port and season. This is your aspic ready to use. Allow to cool but not set.
6 Poach the eggs, refresh in a bowl of iced water drain on paper towels and trim off the ragged edges.
7 Pour a little aspic into the base of 8 ramekins.
8 Decorate with asparagus tips and red pepper triangles.
9 Put an egg in the centre of each mould and fill with the liquid aspic.
10 Chill in the refrigerator to set.
To serve, dip the ramekin into hot water and turn out on your serving plate. Decorate with some tiny crisp leaves dressed with a little vinaigrette.