Leading British chef Fergus Henderson is the man at the centre of the nose-to-tail culinary revolution.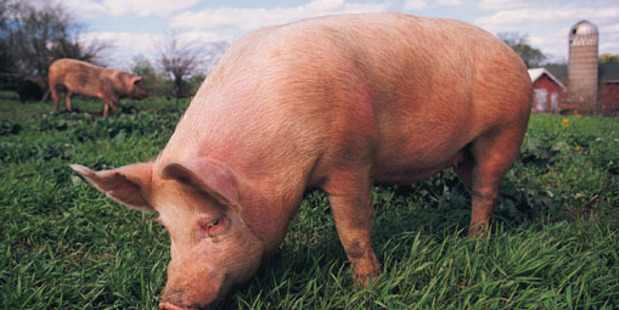 As he bounds through the door of St John's Restaurant half-an-hour late for our lunchtime appointment, it's easy to recognise Fergus Henderson in his trademark bright blue pinstripe three-piece suit. Sitting down at our table near the bar, he first orders us both a glass of the hearty Italian liqueur Fernet-Branca - "a great way to start the day" - even though it has only just gone 11.30 in the morning. But then the 49-year-old has never done things by half.
Renowned for advocating Nose to Tail Eating - the consumption of the entire beast from top to toe - he has built his considerable reputation on deliciously offbeat dishes that make the most out of the apparently most unpalatable parts of an animal's body.
"There was no real eureka moment of ah ha!" he says. "It was just the way I cooked. In a way, it's polite to the animal and also there are a lot more interesting things to eat that lie beyond the fillet. It's common sense cooking and it always has been.
"When I was young, my mother was always saying we should try different things like brains or whatever. It's being not afraid of anything and the textures are so pleasant with jewel-like kidneys and soothing, uplifting tripe. It's just wonderful."
Henderson insists his practical approach isn't just ethical but also "makes for a good lunch," which I soon discover to be all too true. To start, I try some crunchy pig's skin - basically crackling - with a tantalisingly tart dandelion salad before opting for the comfortable familiarity of braised oxtail, carrots and mash, a dish not too far away from what my mother cooked when I was growing up in New Zealand in the 1980s. Back then, liver, hearts and sometimes even sheep's brains would often be on the family menu, meals that seem to have since gone out of style as people have become squeamish about what they eat.
"They're fools," says Henderson. "It seems very odd to me. Why are they squeamish? Have they thought about it properly? Is it the squidgy kidneys? Are people afraid of popping them into their mouths? It's not really a question of fashion, and the liver is like the biggest filter in the body so why are people squeamish about tripe or brains? Brains, lovely!"
Henderson's enthusiasm is so contagious I almost wish I'd plumped for the rabbit offal on toast or his famous bone marrow and parsley salad, which you literally have to scoop out of the long bone.
Having originally trained as an architect, Henderson has always been driven by his passion for good food. After learning the ropes in various restaurants, he opened the legendary French House above a Soho pub in 1992. It was a favourite haunt of painters Lucian Freud and Francis Bacon, and he left it in the more than capable hands of his Wellington-born wife Margot when he departed to launch St John with partner Jon Spiteri two years later. Since then, three more establishments have followed, most notably last year's ambitious St John Hotel in Leicester Square.
"I certainly came it from the opposite direction to most chefs," recalls Henderson. "I didn't train under a great master or spend all day standing over a stove. You don't get to see if it's a nice day that way and I can't see how that helps. I'd much rather read a James Bond novel or see loved ones. That informs your palette more than doing the same thing every single day.
"That great kitchen tradition has produced some great chefs but I have a very different, much looser approach that you're also allowed to follow."
Unlike household names such as Jamie Oliver and Gordon Ramsay, Henderson hasn't flooded bookstores on an annual basis with his latest cookbook, having only released 1999's Nose to Tail Eating and 2007's Justin Piers Gellatly-co-written Beyond Nose and Tail to date. More recently however, the two books have been collected in one oversized tome, The Complete Nose To Tail, which comes with new photos and some additional recipes.
"It's very handsome-looking but it's designed to be used in the kitchen as well, so it's meant to be stained with sauce, butter and parsley," says Henderson, who doesn't have plans for any more sequels. "It's my tombstone to cookbooks. No more cookbooks for me. There have been more than enough cookbooks already; the world is drowning in them. So this is my final statement on food."
In future, Henderson will perhaps leave the writing to Margot, whose own debut You're All Invited was published last month. "There's been a bit of healthy competition," laughs Henderson. "But it's all been very happy and it's all sport as it were. Hopefully we compliment each other in a strange kind of way."
With the likes of Braised Squirrel and Snail, Trotter, Sausage and Chickpeas, The Complete Nose to Tail can initially appear daunting but, according to Henderson, its recipes are intended to be accessible to all. "They're meant to be simple," he says. "It's encouraging you to cook. It's not saying that you should make restaurant food at home. It's saying enjoy what you cook and get your mates around."
Unlike Marcus Wareing's Gilbert Scott at nearby St Pancras Rail Station, which has updated classic fare from previous decades, Henderson is not embarking on any culinary nostalgia trip. "I'm not trying to revive some olde-worlde rose-tinted view of the past," he says. "It's a modern approach. It's permanent good food for now so let's keep moving on."
Though Henderson devotes chapters to everything from game to seafood and even puddings and ice cream, it is the pig that takes pride of place. "I like its trotters, its tail, its giblets and head," he says. "Pig fat also makes great roast potatoes. There's a lot of the pig that I like. It just says 'eat me'."
Henderson has enjoyed his many trips to New Zealand with Margot and their three children. "We always have a happy time there and I enjoy the food very much," he says. "I'm a big fan of kina and there's some very good hunter-gatherer chaps at one of those beautiful beaches who catch some really fine lobsters. New Zealand isn't burdened by the weight of history so you can keep things nice and fresh and try out new things."
The Complete Nose to Tail, $75, is published by Bloomsbury/Allen & Unwin.