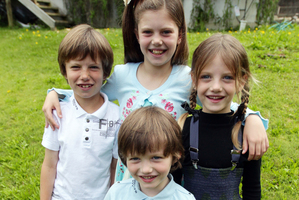 A 6-year-old Kiwi girl is the toast of Europe after starring in a $12 million Christmas commercial which has gone viral.
Aucklander Georgia Haskell has left British TV viewers misty-eyed with her cute performance in the hit ad called The Journey, for department store John Lewis.
More than 50 million people in Europe watched last year's festive chain store promo on the internet and this year's offering is proving as popular.
Georgia shot scenes for the snowman-themed ad in Queenstown during winter, earning her a bumper pay day.
It is a family affair for the Haskells - Georgia's three brothers and sisters have also appeared in international commercials.
"I got a tap on the shoulder from a talent scout in a cafe at Mt Manganui and asked if my children would like to do some film work," mum Jo said.
"That was five years ago and it just took off. "
Georgia's sister Olivia, 10, has appeared in overseas ads for Persil, Huggies and Samsung. Brother Benjamin, 8, has filmed for MySky and Zyrtec. Joshua, 4, cut his acting teeth in a baby product commercial for Australia.
Overseas ad-makers splash out about $165 million a year shooting promos in New Zealand, mainly because of the country's diverse scenery.
Jo admitted rewards can run into "several" thousands of dollars and said her children often have more money in the bank than their parents.
Peter Langford-Read from Auckland talent and model agency Red Eleven warned the work requires patience.
"We steer clear of pushy parents who want to turn their children into stars."