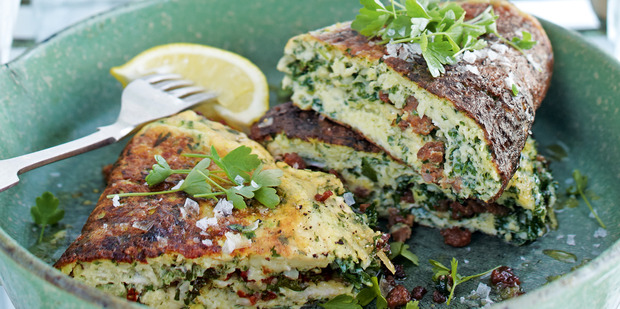 Serves 2
1/2 Tbsp olive oil
2 chorizo, skins removed
4 eggs, separated
1/3 cup pouring cream
1/2 cup grated haloumi
1/2 cup chopped curly parsley leaves
Sea salt and cracked black pepper
20g unsalted butter
Micro parsley leaves (optional) and lemon wedges, to serve
1 Heat the oil in a medium non-stick frying pan over high heat. Add the chorizo and cook, breaking up lumps, for 3-4 minutes or until golden brown. Set aside and reserve the oil.
2 Place the egg yolks, cream, haloumi, parsley, salt and pepper in a bowl and stir until well combined.
3 Place the egg whites in a separate bowl and whisk until soft peaks form. Gently fold the egg whites though the egg yolk mixture.
4 Melt the butter in 22cm non-stick frying pan over medium-low heat. Add the egg mixture and cook for 4-5 minutes. Sprinkle with the chorizo and cook for a further 3-4 minutes or until the base of the omelette is just set.
5 Gently fold over to enclose the chorizo and cut in half. Sprinkle with the micro parsley, drizzle with the chorizo oil and serve with lemon wedges.
For more recipes visit the Donna Hay website, www.donnahay.com.