Boss' career confession wins hearts after death.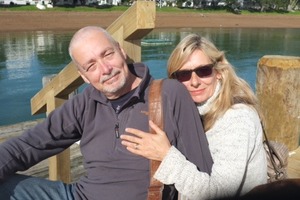 A searingly honest account of his life by a New Zealand-based advertising boss who died of cancer recently is going viral on the internet.
Lindsey "Linds" Redding, an art director who worked at top international firms BBDO and Saatchi & Saatchi, died aged 52 on October 31.
Before he died he wrote an essay about how his career wasn't worth it. His forthright words have captured the imagination of people around the world.
"It turns out I didn't actually like my old life nearly as much as I thought I did," Redding wrote after he was diagnosed.
"I know this now because I occasionally catch up with my old colleagues and workmates. They fall over each other to enthusiastically show me the latest project they are working on. Ask my opinion. Proudly show off their technical prowess (which is not inconsiderable).
"I find myself glazing over but politely listen as they brag about who's had the least sleep and the most takeaway food. 'I haven't seen my wife since January'; 'I can't feel my legs any more and I think I have scurvy but another three weeks and it will be done' ... What do you think'?"
Redding continues: "What do I think? I think you are all f*****g mad. So disengaged from reality it's not even funny. It's a f*****g TV commercial. Nobody gives a shit."
The ad man concluded all his years dedicated to the business and missing out on family occasions simply wasn't worth it. "It turns out it was just advertising. There was no higher calling."
Redding, originally from the United Kingdom but who was a resident of Waiheke Island, leaves behind wife Jo and daughter Rebecca, 24.
Jo told the Herald on Sunday that Linds would have been tickled by the huge interest in his blog. "Linds would have loved knowing that people around the world have been reading his views on life and work," she said. "I'm really proud he was so honest about saying how he felt and that is perhaps what has touched other people."
Jo said her husband first knew something was wrong when he collapsed at Britomart Station in Auckland. "Cancer changed his life and altered his perspective on a few things."