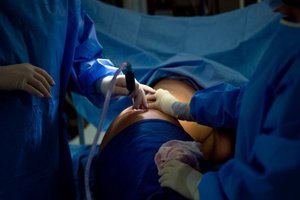 Investigations are underway after a 27-year-old Brazilian model who was "obsessed with her looks" died during a botched liposuction procedure.
Pamela Daris do Nascimento, a model, actress and game show host assistant, died during her third lipo operation on October 19, however the news has only just been made public.
She reportedly suffered a fatal haemorrhage at Green Hill Hospital in Sao Paulo. However, her aunt, Enedida Nascimento, alerted police after it took the hospital 10 days to report the death, The Telegraph reported.
"She was obsessed with her looks. She was always telling me how fat she thought she was," the model's aunt said.
"But she didn't tell me about this latest liposuction. If she had told me I wouldn't have let her. It had only been a short time since she'd had treatment for varicose veins."
The police are now investigating whether or not the model died from a perforated kidney or punctured liver.
A perforated kidney would indicate she died before the operation was finished and the surgery was completed to hide the mistake, according to Fox.
"Our intention is to find out if the surgery went ahead with her alive or after she had died to try to hide an unsuccessful attempt to save her," Evandro Lemos, the police chief spearheading the investigation, told Fox.
- www.nzherald.co.nz