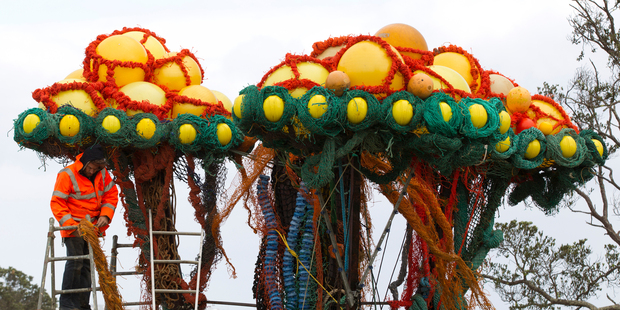 Sculptor Sacha Nunn puts the final touches to his "Fukushima in the ocean of complacency." Photo / Brett Phibbs
A North Shore outdoor sculpture exhibition started 18 years ago to raise funds for Women's Refuge returns from Thursday until November 18 at Fort Takapuna, Devonport.
"The Year of The Menagerie" is the theme for many of this year's 110 sculptures.
They range from a life-sized elephant to eels, a whale, a sealion, gulls, a frog, domestic garden birds, a birdman, a bull and chihuahua dogs.
Many works are specific to the clifftop venue with its unobstructed views over the Hauraki Gulf and to Rangitoto Island.
Curator Rob Garrett has drawn works from younger emerging artists as well as Charlotte Fisher, John Edgar, Paul Hartigan, Gregor Kregar, Peter Lange, Paora Toi Te Rangiuaia, Lucy Bucknall, Bing Dawe, Paul Dibble, Christian Nicolson and Helen Pollock.
The biennial event draws about 18,000 people and has raised $1.2 million for refuge projects. All the works are for sale.
- Staff reporter