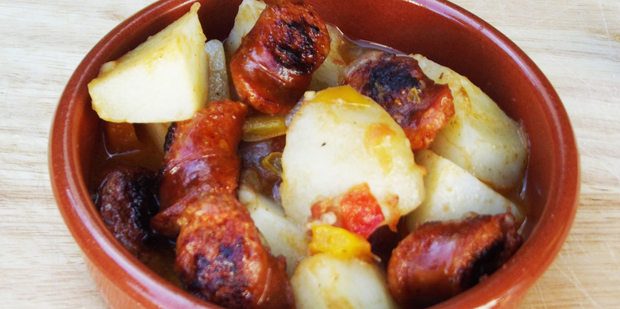 Mariano Vivas made a pretty big life change when he moved from Barcelona to Christchurch in 2006 with his family. This led to a pretty big career change too. Originally a photo shop manager, and with no background in food, his frustration with the lack of good fresh chorizo in Christchurch led him to try to make it himself, eventually starting his own Spanish sausage business, Mariano's Spanish Goods.
Fortunately, he was relatively familiar with the process, having watched sausages being made every year when the family would return to his father's home town for the holidays. And we're talking from scratch. As in from watching the pigs being slaughtered right through to putting the meat into casings. A thorough education.
Using the family recipe and his childhood memories, he began experimenting (although he didn't feel the need to kill his own pigs). He tried different types of pork, spices, mincing methods and hanging times until he arrived at the perfect taste.
And we are grateful for his perseverance, as the final product is excellent.
The chorizo and the malaguena have won Cuisine Artisan Awards and also high praise from chefs such as our own Peter Gordon. From humble beginnings at Mariano's local farmers' markets, his products are now available in well-known gourmet outlets nationwide.
There are three varieties: chorizo, malaguena and butifarra. The texture of all three is loose, chunky and soft as he passes it though the mincer only once. Such a nice change from over-processed, too-firm sausages. I loved the mild-but-tasty butifarra (traditional Catalan sausage) - there is something in the addition of the black pepper and nutmeg that give it a very fresh zing.
The slow heat from the malaguena was also excellent - not overwhelmingly spicy but very "warming" from the cayenne and black pepper. It would be heaven in a winter stew or a chickpea and tomato casserole.
The chorizo is similar in taste but milder than the malaguena and focuses heavily on the paprika (from Spain) rather than the different types of pepper
All the sausages are bursting with taste, without detracting from the natural free-range pork flavour that is its base.
Where to buy:
Farro Fresh and Sabato.