From the simple to the high-tech, parents will have plenty of choices to keep the kids happy over the holidays.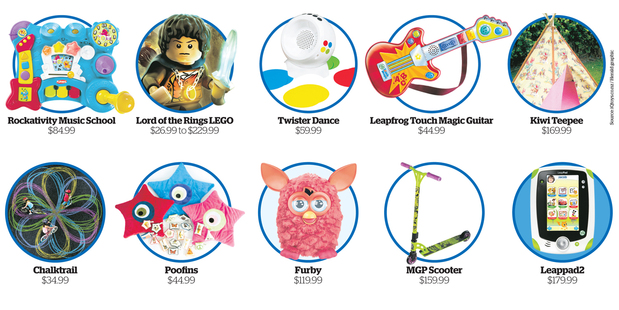 A simple toy harking back to less high-tech times - which was developed with the aid of internet-based support - is among the pick of items that kids could be bugging parents for this Christmas.
The owner of iQtoys.co.nz, Shane Loomb, said his favourite for toy of the season was the Chalktrail, a device that attaches a large piece of chalk to the back of a bike, enabling the rider to draw patterns.
While it may cause cleaning headaches in many streets this summer, the toy made it to the shops because of the support of internet pledges.
"It was funded through Kickstarter," said Mr Loomb. "The inventor in Washington in the US made a prototype, and people saw it and really liked it."
Kickstarter enables entrepreneurs to market directly to small investors, who contribute money.
"The Chalktrail raised $40,000. It's very popular," he said.
More modern is the Leap Pad2, billed as an iPad for kids, which can connect to other computers and download apps.
Toyworld toy buyer Repeka Haurua said: "You can't avoid it ... kids just have no fear of technology. They just keep pressing till they learn what it does," she said.
A popular toy from the 1990s, the Furby, has a new incarnation, also with downloadable content.
Last year's favourite, the MGP Scooter, is definitely on the wish list again this year.
"They're pro scooters ... you see the little kids come in, and they don't want a traditional scooter, they want a mini-pro scooter."
But the best toy to go for, say the experts, is Lego.
Ms Haurua said that Lego was great for all age groups.
"The kids are able to show their creativity," she said, "and parents are able to be involved much more."