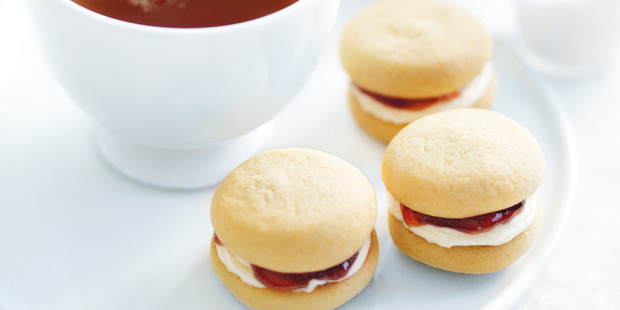 Makes 32
200g unsalted butter, softened
1/2 cup brown sugar
1 egg
1 Tbsp golden syrup
1 tsp vanilla extract
1/2 cup plain flour
1 1/2 cups self-raising flour
Strawberry jam, to spread
Vanilla filling
80g unsalted butter, softened
1 cup icing sugar, sifted
1 tsp warm water
1 tsp vanilla extract
1 Preheat oven to 180C.
2 Place the butter and sugar in an electric mixer and beat for 8-10 minutes or until pale and creamy.
3 Add the egg, golden syrup, vanilla and flours and beat until a dough forms.
4 Roll teaspoonsful of the dough into balls and place on baking trays lined with non-stick baking paper. Lightly press to flatten.
5 Bake for 8-10 minutes or until just golden.
6 Place on a wire rack to cool completely.
7 To make the vanilla filling, place the butter, icing sugar, water and vanilla in a bowl and whisk until smooth. Spread half the biscuits with the filling and jam. Sandwich with the remaining biscuits.
* For more recipes by Donna Hay click here.