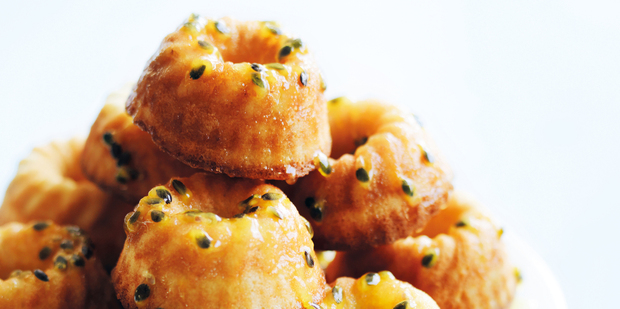 Makes 12
1 cup ground almonds
1/2 cup plain flour, sifted
1 1/2 cups icing sugar, sifted
1 tsp vanilla extract
6 egg whites
175g unsalted butter, melted
Passionfruit syrup
1/2 cup passionfruit pulp
1/4 cup water
1/4 cup caster sugar
1 Preheat oven to 180C.
2 To make the passionfruit syrup, place the passionfruit, water and sugar in a small saucepan over medium heat and stir until the sugar is dissolved.
3 Bring to the boil, reduce heat to low and cook for 10-12 minutes or until thickened. Set aside.
4 Place the ground almonds, flour and icing sugar in a bowl and mix to combine. Add the vanilla, egg whites and butter and mix well to combine.
5 Pour into 12 x 1/3 cup-capacity well greased Bundt tins and place on a baking tray.
6 Bake for 15-20 minutes or until cooked when tested with a skewer.
7 Turn out immediately on a wire rack and drizzle with the passionfruit syrup to serve.
* For more recipes by Donna Hay click here.