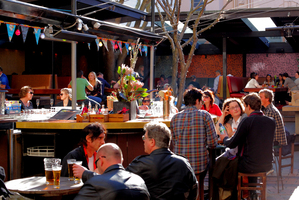 A Wellington pub has been picked as one of the world's top five beer gardens by a British newspaper.
The Southern Cross in the heart of the nation's capital is on the list alongside bars in New York, Tokyo, Singapore and Devon.
"The bunting-covered beer garden at Wellington's Southern Cross bar is an all-weather affair," according to the team at Metro newspaper in the UK.
"When the mercury dips, staff hand out hot water, blankets and mulled wine but when the sun's shining, they're on hand to dole out sunscreen.
"On Sundays, the beer garden is even home to a free barbecue."
"We're pretty stoked with the whole scenario," The Southern Cross marketing manager Tim Clarke said.
"Just to be included with all of those places... they're such highly esteemed places, and then little old Wellington gets a mention."
Also making the cut were The Garden @ Studio Square in New York, Takao Beer Mount in Tokyo, Red Dot Brewhouse in Singapore and The Elephant's Nest Inn in Devon.
- nzherald.co.nz