Herald on Sunday Rating: 5/5
Address: Three Lamps Plaza, 283 Ponsonby Rd
Ph: (09) 360 2122
Website: sidart.co.nz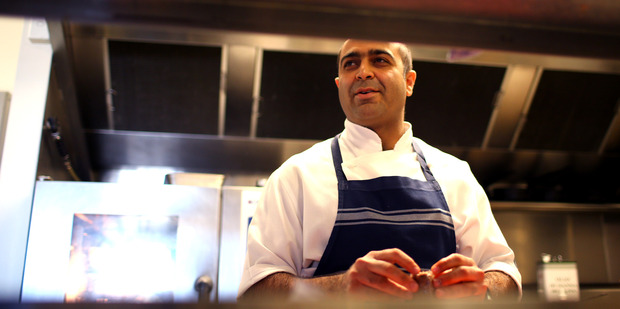 The French call it table d'hote. These days it is virtually synonymous with the set menu they call prix fixe (fixed-price), but originally the phrase - literally, "the host's table" - referred to the meal included in the price of your lodgings.
Later, it came to mean the meal at a restaurant with no menu, where you ate what they were cooking, according to the season, the best deal at the market, the chef's whim. It would not be fine dining, but a solid homely account of some French provincial classic or other.
In our restaurants, range of choice is often too highly prized, it seems to me. Table d'hote is virtually unknown and places that limit themselves to four or five entrees and the same number of mains are rare. Yet my rule of thumb is that the longer the menu, the worse the food: if you find yourself in a place offering more than a dozen main dishes, the best idea may be to leave.
At Sidart, his playfully named restaurant in Ponsonby, master chef Sid Sahrawat knows this.
We were there on its first night, three years ago, when he was offering five entrees and five mains at a very reasonable $22 and $35 respectively. The meal was sublime (ostrich sushi; roast tarakihi with green-pea gnocchi). The roquefort cheesecake was a revelation.
I worried a bit about whether the place would prosper, since it is tucked in the end of the drab Three Lamps Plaza where Alhambra used to be. But diners plainly seek it out: it's been agreeably busy, especially considering there's a recession on, and they haven't had an empty table on Tuesday nights since January when they started what they call "Tuesday Test Kitchen".
The name may suggest a cooking class or some version of the ghastly MasterChef, but what's happening is that the week's menu is invented each Tuesday and debuts that evening. With the exception of some early planning and preparation, most dishes are conceived and created on the Tuesday by Sahrawat and his sous-chef colleagues. The staff gets to try everything around 5.30pm (if only every restaurant would do this, not as a perk but so that waiting staff know what they're serving) and then the place is open for business. They'll make adjustments for dietary requirements, which you'll be asked about when you book, but it's a fine-dining spin on table d'hote: you eat what you're given.
Eight courses cost $80 a head (it's another $65 for matching wines). With a little tweaking where necessary, that menu lasts the rest of the week (when it's $75 for five courses, $120 for 10). Then they start it all again.
Creatively, it's living on the edge and that's lamentably uncommon in restaurants. The vast majority of even quite good places introduce a new menu four times a year. It must be hard keeping the enthusiasm up when you're doing your 177th snapper ravioli or pork belly. At some stage, in any kitchen, cooking must get close to factory production.
At Sidart, by contrast, there's an almost palpable buzz. A single-sheet menu in a black envelope on the table offers only hints (scallop, spinach, sago; pork, parsnip, blood orange) of what is to come but there's a pretty extensive explanation as each dish lands.
I've written before about not having much time for the more rarefied excesses of high-tech gastronomy (especially, but not only, molecular cuisine). Sahrawat's food doesn't stray into pretentiousness - although there's a trifle too much use of foam for my liking - but makes striking use of ingredients, often including two different iterations in one dish. So the blood orange with the pork belly comes as a Marmite-dark puree and as freeze-dried crisps.
Other ingredients are given original treatments that recall that roquefort cheesecake: roasted bulgur wheat lends a crunchy texture to soft Jerusalem artichoke; the sago on a ring of scallops is like popcorn; the ling comes with a cucumber and parsley gel; the beetroot sits on a parmesan custard.
Detailed descriptions seem superfluous, since the menu will have ceased to exist by the time you read this, but there's something very special happening here. Sommelier Ismo Koski's wine matches, which he explains comprehensively and without a trace of affectation, add to the experience. The restaurant's name is apt: this is food as art.
Need to know
Value: $$$
$ = $20-$40; $$ = 40-60; $$$ = $60+.
(Price guide reflects three courses for one person without drinks.)
Verdict
A new fine-dining adventure each week.