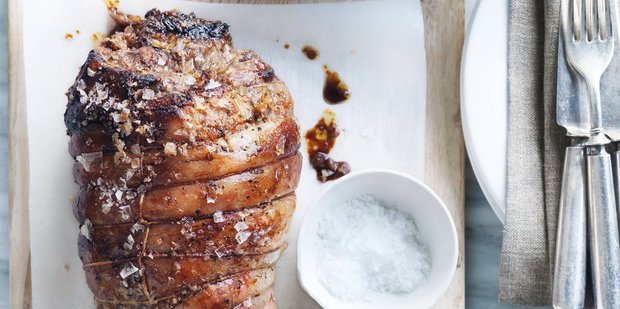 Caramelised onion and rosemary roast lamb. Photo / Chris Court
Serves 4
1/2 cup pine nuts, toasted
1/4 cup caramelised onion relish
10 anchovy fillets
2 Tbsp chopped rosemary leaves
2kg easy-carve lamb leg
4 sprigs rosemary, extra
Olive oil, for drizzling
Sea salt and cracked black pepper
8 cloves garlic, unpeeled
Rocket leaves, to serve
1 Preheat oven to 200C. Place the pine nuts, caramelised onion, anchovy fillets and rosemary in a food processor and process until roughly chopped.
2 Spread the lamb with the rosemary stuffing and tie with kitchen string. Place the rosemary sprigs in a baking dish and top with the lamb.
3 Drizzle with oil and sprinkle with salt and pepper. Roast for 40 minutes.
4 Add the garlic and roast for a further 20-30 minutes or until cooked to your liking. Cover and allow to stand for 10 minutes before carving and serving with the garlic and rocket leaves.
Tips and tricks
Try adding your favourite herbs to the stuffing for the lamb, such as oregano or thyme. Chilli flakes could also be added if you like that kick in your dishes.
* For more recipes by Donna Hay click here.