Cate Foster enjoys the benefits to body, mind and energy levels of the ancient art of yoga.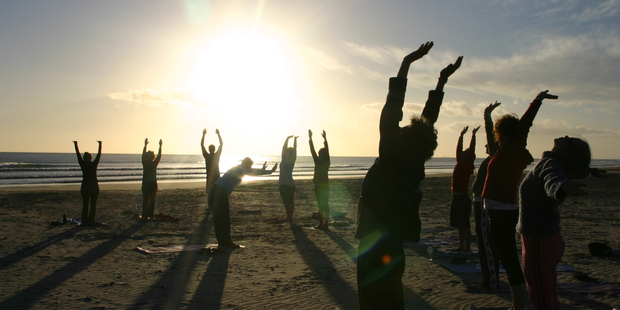 A year or so ago I saw a picture of the multi-talented and beautiful Cindy Crawford doing something that made her look like an impossibly gorgeous pretzel and decided there and then that the time had come to take my ever-stiffening joints in hand. Literally in some instances, as it later turns out.
Investigating yoga was the first thing I had to do. Very quickly I found many versions of this ancient discipline are taught in Auckland, but as this story is only about what is perhaps one of the most famous practices of all, the sequence of ritual and exercise known as surya namaska or sun salutes, it is here I will concentrate.
I also discovered that there are a few basics to know before you even step into a single class. It is suggested you don't eat for two hours before the class, although a glass of water is fine. Eat and if you're like me you will soon discover why this is a recommendation you should pay attention to. (So will the people on the mats near to you.) You will need comfortable sports clothes, preferably in layers so you can strip off as you get warmer, and you must be able to have bare feet as you will need the grip of the soles of your feet on the mat.
For hygiene purposes it's not a bad idea to have your own mat, although most studios provide them. If you are pregnant you should attend a pregnancy specific class after the first trimester.
For those who like me have very little background knowledge about yoga, the sun salutes are a pre-ordained set of exercises performed in a single graceful flow, with each movement co-ordinated with ujjayi breathing. Used correctly this special type of breathing creates an internal heat that allows the body to be more flexible, while the bandhas (locks) keep the muscular-skeletal body safe. All teachers are trained in anatomy and philosophy as applied to yoga and so can read each student's muscular-skeletal weaknesses and help them work in a physically safe way; and when you are doing it right the results are remarkable in all sorts of ways.
The sun salutes classes at Yoga by the Sea are a modified version of the ashtanga style of yoga, designed to fit within a one-hour timetable, (compared to the full practice, which takes 1 -2 hours.) These classes are for mixed ability, with experience ranging from beginners to the real pros with the flexibility and stamina to make each sequence look like a dance. Because of this, both of the teachers, Kim Michalis and Barbara Dawson, spend time explaining each move, on the move, something that probably wouldn't be necessary in a fully experienced class.
The sun salutes classes taught by the Yoga Academy in the CBD are the full practice. Again any level of skill can attend, but as at Yoga by the Sea, a full class can be challenging in a cardiovascular sense so a base level of physical fitness is required. But as Jude Hynes from the Academy remarks, when a practice is done properly students might embark upon it "thinking they are doing it for the physical exercise, but quickly move into mental and emotional areas". She paraphrases an ancient Sanskrit saying as being a useful guiding thought. "Watch your thoughts for they become your words, your words become your actions, your actions become your habits, your habits become your character, and your character becomes your destiny."
I thought about this for a while and then realised that yes, my sun salutes and other yoga classes are slowly helping me become energised and supple. After a class I feel the day is mine for the taking and while I long ago came to the realisation that I'll never be as lithe and limber as Cindy, my back is no longer stiff in the morning, and my general posture is better. So like the saying, I am creating a habit that is becoming a part of my destiny that will look after my destiny in older age.
Finding a class near you
* Yoga By The Sea: Sea Scout Hall, 25a King Edward Parade, Devonport. Kim 022 546 9642 (022 KIM YOGA). General classes for all levels based on a mix of iyengar/hatha/flow. Two weekly classes of sun salutes (based on the ashtanga method).
* Yoga Academy: 190 Federal St, CBD. Ph (09) 357 0750. Primarily Ashtanga Yoga for all levels including teacher training with some hatha classes as well.
* Astanga Yoga Centre: 308 Great North Rd, Grey Lynn, Ph (09) 536 5240. Classical Astanga Vinyasa yoga in its traditional form.
* Yoga Sanctuary: First Floor, Suite 5, 1 Montrose Tce, Mairangi Bay and 21 Bath St, Parnell. Ph (09) 479 3888. A range of styles offered; yin yoga, nusara-inspired yoga, hatha, vinyasa flow and ashtanga.
* The Breathing Space: 11 Moa Ave, Oneroa, Waiheke. 021 236 4414. A collective of teachers offering a variety of classes in several different traditions.