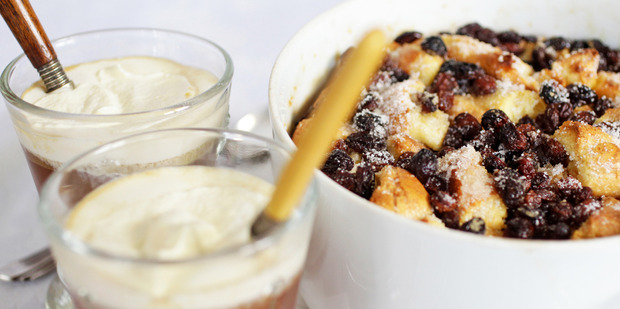 This pudding can be made using bread or croissants. Slices of fruit bread would also be good. You could make one big dish or individual serves. This recipe makes enough to serve 4.
1 Heat the oven to medium.
2 Butter the inside of an ovenproof serving dish.
3 Rip, cube or slice about 500g of the bread you are using and pack this into the buttered dish.
4 In a solid pan mix together:
1½ cups of milk and ½ cup of cream
3 tbs castor sugar
a pinch each of ground nutmeg, cinnamon and salt
Half a vanilla pod (split) or 1 teaspoon of pure vanilla essence
If using a vanilla pod, heat this now until the sugar is dissolved then cover the pan and allow the pod to infuse for a while.
If using vanilla extract, heat the other ingredients and add the extract once you remove them from the heat.
5 In a large bowl whisk 3 medium eggs and 2 yolks. Pour half the hot milk mixture into this while you keep whisking, then gradually whisk in the rest.
6 Pour this over the bread in the ovenproof dish. Cover with cling film and leave for half an hour so the bread soaks up all the custard.
7 Set a baking tray half filled with water on to the middle tray of the oven.
8 Remove the plastic from the pudding and sprinkle the top with some raisins, sugar and a pinch of cinnamon and grated nutmeg. Dot with butter.
9 Sit pudding in the water bath. The water should be about halfway up the side of the dish. Top up if required. Cook for a good 40 minutes. A skewer should come out clean when the pudding is cooked.
Serve with cream, either liquid or whipped.
Hot buttered rum
Makes 6 drinks
1 In a bowl, mash together a third of a cup of packed dark brown sugar, 4 tablespoons of unsalted butter, half a teaspoon of pure vanilla extract, and a good pinch each of cinnamon, ground cloves, ground allspice and freshly grated nutmeg. This must be well combined and can be kept for a couple of weeks. Before using, bring to room temperature.
2 Warm the mugs and glasses you are using with hot water. Empty these and fill the warm mugs with a ¼ cup of dark rum and ½cup of boiling water.
3 Stir in a generous tablespoon of the spiced butter, top with whipped cream and a final grating of fresh nutmeg.