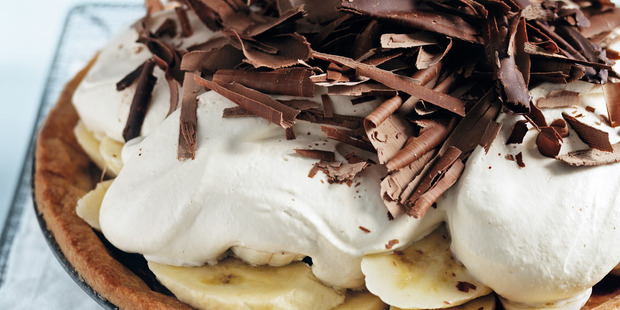 Homemade pastry is easier to make than you might think. And once you've mastered the basics of our simple vanilla version, you'll be able to create the most luscious and impressive pies and tarts. Fill your crisp and golden pastry shells with all manner of creams, custards and curds. Here we have the recipe for a cheat's banoffee pie.
Serves 6-8
Banoffee pie
1 x quantity basic shortcrust pastry (recipe below)
2 x 380g cans caramel filling+
1 1/2 cups pouring cream
1 tsp instant coffee powder, dissolved in 1 tsp boiling water
2 Tbsp icing sugar, sifted
3 bananas, peeled and sliced
Shaved dark chocolate, to serve
1 Make the shortcrust pastry. Preheat oven to 200C. Roll the pastry out between 2 sheets of non-stick baking paper until 3mm thick.
2 Use to line a lightly greased 23cm-round, 3 cup-capacity pie tin. Trim the edges and lightly prick the base with a fork.
3 Line the pastry case with non-stick baking paper, fill with baking weights and bake for 10 minutes.
4 Remove the paper and weights and bake for a further 5-10 minutes or until light golden.
5 Place the cream, coffee and icing sugar in a bowl and whisk until soft peaks form.
6 Fill the pastry case with the caramel filling and top with the banana, coffee cream and dark chocolate to serve.
* Find caramel filling in the baking or tinned milk aisle of the supermarket.
Basic shortcrust pastry
Serves 6-8
1 2/3 cups plain flour
1 Tbsp caster sugar
1/4 tsp baking powder
180g cold butter, cubed
1/3 cup iced water
1 tsp vanilla extract
1 Place the flour, sugar and baking powder in a food processor and process to combine. Add the butter and process until the mixture resembles fine breadcrumbs.
2 With the motor running, gradually add the water and vanilla and process until the mixture comes together to form a smooth dough.
3 Flatten into a disk, wrap in plastic wrap and place in the fridge for 30 minutes to chill.
4 Roll the pastry out between 2 sheets of non-stick baking paper to the desired thickness and follow chosen pie recipe.
Tips and tricks
This shortcrust pastry will make all kinds of pies. Use ingredients, such as custard, lemon curd or mascarpone as fillings to top with fresh fruit or cream.
If your pastry becomes too soft as you roll it out, simply pop it in the fridge for a few minutes.
Make a double quantity of the pastry. Roll out the second batch between sheets of non-stick baking paper and itcan be kept in the freezer for up to 1 month.
Store cooked pastry shells in an airtight container in a cool place for up to 3 days.
* For more recipes by Donna Hay click here.